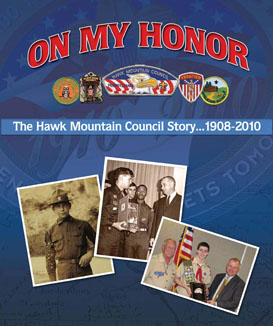 It's a Beautiful Color Book with 240 Pages, including…
Scouting history from Berks and Schuylkill Counties and Panther Valley Area since 1908


Histories from Daniel Boone, Appalachian Trail, and Hawk Mountain Councils


Great photos and stories from Camps Indiandale, Blue Mountain, Howard, Greenwood, Hopewell, Nisatin, Shikellamy and Hawk Mountain


Listing of over 5,000 Hawk Mountain Council Eagle Scouts


Listing of all Silver Beavers and other major Awards


Order of the Arrow, Wood Badge, Cub Scouts, Venturing, Exploring, Philmont
After over a year of preparation, the book is now available at the Beaver Family Service Center. The price has been reduced to $25, $33.50 if you want it mailed to you. If you ordered book(s) or are a page or chapter sponsor, your book(s) are waiting for you at the council service center, if you haven't picked them up yet. If you ordered books with shipping, you should have received them.
It is a beautiful large-format book with 240 pages of color illustrations and information on how Scouting started in England, came to the US, and started in the present Hawk Mountain Council in 1908. Over 100 people contributed thousands of stories and pictures for the book. It has chapters on our camps, Kittatinny Lodge, Wolf's Lair, Wood Badge, training, jamborees, Philmont, awards, etc. The names of over 5,000 Hawk Mountain Council Eagle Scouts are listed in the book.
In the Forward, Senator Michael O'Pake states:
"This book is ... a remarkable achievement. Everyone who has invested their time, talent, and energy in making it a reality deserves special thanks and congratulations for all of their hard work. For those who have been involved with Scouting, this work will provide hours of enjoyment and become a treasured keepsake. And for those who are not too familiar with Scouting, this book will provide both a historical record of Scouting's import and impact in our region and serve as a catalyst for them to support the movement. So I encourage everyone to enjoy this remarkable historical text and share it with your friends and neighbors; it is sure to become a favorite for them."
Steve Henning is the editor of the book and is available to give presentations on the book to service clubs and to Scout meetings where adults are present. He can be contacted at .
Take A Sneak Peak
Order Form - Order your book(s) now with this convenient order form.
Names - Review the names that appear in the book:
Eagles - Names of the over 5,000 Hawk Mountain Council Eagles

Awards - Names of recipients Silver Beaver Award and 1910 Society, Angel Award, Cliff Dochterman Award, Daniel Carter Beard Masonic Scouter Award, Distinguished Eagle, Founders Circle, George Meany Award, Good Scout Award, James E. West Award, Quartermaster Award, Ranger Award, Silver Antelope, Silver Award, Silver Beaver, Silver Buffalo, Silver Fawn, Spirit of Scouting Award, Whitney M. Young, Jr., Award

Others - List of 954 names mentioned in the text of the book.
Contents - Table of Contents
Forward - Forward written by State Senator Michael O'Pake
Introduction - Introduction written by Scout Executive Dan Adams
Acknowledgements - The list of over 100 people who contributed material for this book.
Chapter 1 - Hawk Mountain Council – Who We Are and Where We're Going
Chapter 2 - Timeline…100 Years of Scouting
Chapter 3 - The Origins of Scouting
Chapter 4 - Scouting Comes to America
Chapter 5 - Stories of Appalachian Trail Council…1908-1971
Chapter 6 - Stories of Daniel Boone Council…1917-1971
Chapter 7 - Stories of Hawk Mountain Council…1971-2008
Chapter 8 - The Good Times…Camps and Reservations
Chapter 9 - Always Prepared…Scout Training and Skills
Chapter 10 - Through the Years…Scouts and Scouting Activities
Chapter 11 - Scouting's National Honor Society…The Order of the Arrow
Chapter 12 - We Remember…Major Awards and Recipients
Chapter 13 - The Eagle Scout…A Complete List of Our 5,000 Eagle
Glossary - Scouting Jargon
Index - Complete Index to the Book
Order Form - Order your book(s) now with this convenient order form.
HMC Book Project
5027 Pottsville Pike
Reading, PA 19605-1284