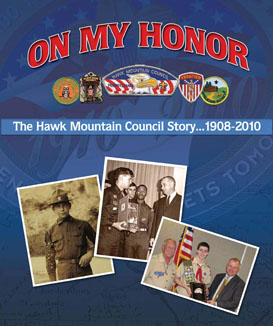 Acknowledgements
This book is a joint effort. Members of the book committee are:
H. Slayton Altenburg
Mike Barner
Ron Beard
F. Darnall Daley
Paul Garrison
Carl Godlove
Stephen M. Henning
Tracy Hoffman

Bernie Hofmann
Glenn S. Piper
Steve Pradon
Greg Portner
Ryan Strause
Sally Trump
Jim Webb
Doug Yocom
Starting in November of 2008, an appeal was made through all local newspapers and the Council newspaper Herbie Hawk for contributions of articles, pictures, newspaper clippings, and personal stories. Well over 100 individuals responded with nearly 6,000 items. When duplicate items were submitted, the earliest one was used except when a subsequent photo was in better condition. The editor wishes to acknowledge these contributors:
Dan Adams
H. Slayton Altenburg
Kathy Bagenstose
Teri Baker
Mike Barner
Robert Bates
William E Beadle
Ron Beard
Dorsen Berger
Bob Besecker
Joshua Blay
Donald Bricker
William Francis Busher
Jack Cantwell
Terry Carpenter Jr.
Walter Creitz
F. Darnall Daley
Anthony Damato
Mary Davis
Walter Eck
Kenneth Eckert
Eli Eisenhard
Lee Erb
David Esser
Joe Faust, Jr.
Robert Fisher
Curtis Fitterling
Robert Fleck
Butch Flexer
Louise Flexer
Allyn Folk


Carl Fritch
Frederick Fritch
David S. Fry
Gene Gabel
Carl Ganster
Nancy Gardner
Paul Garrison
Roy Gehris
Bill Griffiths
John Grimes
Jim Gruber
Rod Hannahoe
Jeff Hannahoe
George Hasker
Hawk Mountain
Council
Larry Henne
Historical Society of Berks County
Steve Henning
Tracy Hoffman
Bernard Hofmann
Kevin Huneke
Joseph Jones Sr.
Benjamin Koch
Ella Kollenweider
Robert S Krebs
Richard Laudenslager
Steve Leinbach
Robert Loeper
Michelle Lynch
Ron Mallicone


Butch Marburger
Robert Meader
Dave Mekeel
Carl Mengel
Beverly Miller
Jeff Miller
Marlin Miller
Sue Miller-Speross
Charlotte O. Moyer
Michael O'Pake
Dan Overkott
Joseph Palerino
Kenneth Parker
George Pinkey
Glenn S. Piper
Pottsville Library
Mike Ramich
Reading Eagle
Reading Library
Lori Reichart
Tom Reinsel
Kenneth George
Reitnouer
Joseph Rhodes
Jesse Ritz
Dennis Schaeffer
Amanda Scheel
Harry Schaum
Walt Schneider
Buddy Seigfried
Susan Settle


Eric C. Shafer
George Shoop
Barry Shultz
Vic Snyder, Jr.
Art Stricek
Ryan Strause
Drew Stump
Betty Sustello
Kenneth Sweigert
Lisa Teprovich
Paul Troutman
Sally Trump
Marlin Tyson
Clifford Unger
John Vogel
Ella Vollenweider
Jane Walter
William Walter
Jeff Warmkessel
Joe Webb
Scott Weidensaul
Clifford Weinhold
Donna Welsh
Susan Whildin
Darryl Whitman
Jack Whitman
Fred Winne
Betty Wolfgang
Larry Wolfgang
Don Woodring

The archives of Hawk Mountain Council are rich with material collected by Eugene Druckenmiller, Richard C. Bennett, Scotty Bradbury, and many other undocumented donors.
Since Scouting started in 1907, there have been many excellent books and articles on Scouting and the people who made it happen. In the preparation of this book, the editor used many of these as references, but used a few for significant amounts of information.
These books are:
Block, Nelson; A Thing of the Spirit, The Life of E. Urner Goodman. Boy Scouts of America, 2000
Block, Nelson; The Founding of Wood Badge, Boy Scouts of America, 1994
Boy Scouts of America; 1985 Commemorative Program, 1985 by Hawk Mountain Council
Boy Scouts of America; A History of the Order of the Arrow, 1996
Boy Scouts of America; A History of Wood Badge in the United States, 1988
Boy Scouts of America; History of Cub Scouting, 1987
Boy Scouts of America; History of The Daniel Boone Council, BSA, 1911-1966, 1968 by Daniel Boone Council
Boy Scouts of America; numerous articles from Boys' Life Magazine, various issues
Boy Scouts of America; numerous articles from Scouting Magazine, various issues
Davis, Kenneth P.; The Brotherhood of Cheerful Service, A History of the Order of the Arrow, Boy Scouts of America
Kittatinny Lodge #5, Order of the Arrow; History of First 21 Years of Minsi Lodge 5 and Lists of Officers Minsi Lodge 1921-71,
Memeu Lodge 1938-71, Kittatinny 1971-87, March 7, 1987
Kutztown Historical Society, Along the Saucony, Vol. 14, Sept. 1991, Pp. 30-31.
Moynihan, Paul & Lord Baden-Powell; An Official History of Scouting, Octopus Publishing Group, 2006
Murray, William D.; Scouting Marches On, The History of the Boy Scouts of America, 1937, Boy Scouts of America
Willis, Chuck; Boy Scouts of America: A Centennial History Book, 2008, Boy Scouts of America
The editor of this book is grateful for permission to use many illustrations that are property of the Boy Scouts of America.
As this book was going for publication, people were still submitting material which was too late for inclusion.
This book was printed in the United States by Kutztown Publishing.
HMC Book Project
5027 Pottsville Pike
Reading, PA 19605-1284