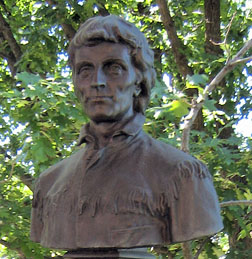 Chapter 6
Stories of
Daniel Boone Council
The Daniel Boone Council, which merged with the Appalachian Trail Council in 1971 to form the Hawk Mountain Council, had its beginnings as the Reading Council, and was renamed the Reading-Berks County Council in 1919. As with many Boy Scout Councils, Daniel Boone Council experienced many changes over its long history. It was consistently recognized, however, as a very significant youthservice agency and considered to be an important member of the community it served. Named after the great woodsman and explorer who was born near Reading in 1734, the Daniel Boone Council produced many fine Boy Scouts, some of whom are still involved with Scouting in the Berks County area.
The Reading and Reading-Berks Council forms.
James Marx is the Council's first Eagle Scout in 1921.
Newton Geiss was Scout, Scouter, Author, Educator and Visionary.
Frank Howard and Fred Howard share interst in buiness, youth , and Scouting.
Ralph Hinnershitzwas life-time Scoutmaster and Scouting advocate
Local Troops tell their story.
Wyomissing Scout presents BSA's Annual Report to President Johnson.
HMC Book Project
5027 Pottsville Pike
Reading, PA 19605-1284