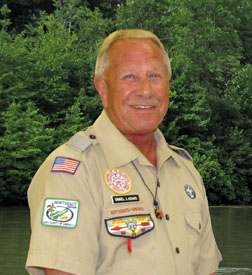 Introduction
Scouting in Hawk Mountain Council
"A Never Ending Story"
"Far and away the best prize that life offers is the chance to work hard at work worth doing"
For the last 2 ½ years I have had the privilege of serving Hawk Mountain Council as our Scout Executive. This has been a most memorable experience!
As we approach the 100th Anniversary of the Boy Scouts of America, many in our council thought it would be of historical significance to remember our council's history. From these internal conversations was born the idea of rediscovering our past, and recognizing the facts of many who have made an impact on who we are today. We felt it was important to track our history and hopefully inspire our future leaders and tomorrow's youth.
For nearly a century, Hawk Mountain Council and its forbearer councils have prepared generations of young people to be our community leaders. They have experienced many opportunities to know about team work, leadership, character and values. We continue to set our youth on a solid path to become great citizens, stewards of our future, role models and great friends. They will continue to make our world a better place!
I would like to thank all who helped and shared their historical facts, knowledge and memorabilia in creating this memorable history of our council. I would especially like to thank Steve and Darlene Henning for their great, dedicated leadership in seeing this project to completion.
As we head into the next century of Scouting, Hawk Mountain Council, its Scouts and volunteer leaders will lead the way to continue this "Never Ending Story."
Daniel J Adams
Scout Executive
Hawk Mountain Council
HMC Book Project
5027 Pottsville Pike
Reading, PA 19605-1284