On My Honor ... The Hawk Mountain Story ... 1908-2010
The Hawk Mountain Council Centennial Memory Book!
Price Reduced from $50 to Only $25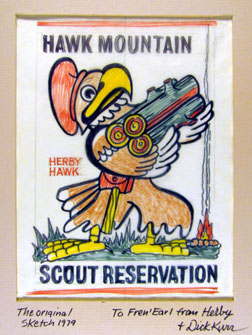 Chapter 7
Stories of
Hawk Mountain Council
Hawk Mountain Council was formed in January 1970, when Appalachian Trail Council consolidated with Daniel Boone Council. Scouting was tremendously popular with boys in Berks and Schuylkill counties during this time, evidenced by the fact that nearly one-third of all boys of Scouting age were members of Hawk Mountain Council at the time of the merger. The newly formed Council boasted 12,202 Scouts. The two camps of the former Appalachian Trail and Daniel Boone councils continued to operate independently until construction of a combined camp was completed in 1978.
The Joining of Two Councils
Bernie Hoffman Scout and leader
Dick Kurr's Herbie Hawk becomes Council Symbol.
Hawk Mountain Council Service Center
Tom Beaver, lifelong Scout and Scouter
Hawk Mountain Scout Reservation is formed.
Darnall Daley, Council Commissioner, and Poet Laureate
Scouts meet in Haunted House in Clamtown
Keep the Memories, Pass on the Tradition
HMC Book Project
5027 Pottsville Pike
Reading, PA 19605-1284
NEWSPAPER ARTICLES
---
---