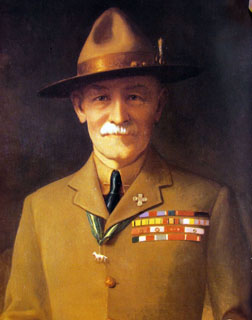 Chapter 2
Timeline of Scouting in
Hawk Mountain Council
The Boy Scouts of America celebrates its 100th anniversary in 2010, but its roots extend back more than 50 years prior to the birth of Robert Baden-Powell – Chief Scout of the World – in 1857 in England. The Scouting movement traveled to America almost immediately, and was formally organized in 2010. By that time, a Scout troop already was established in Schuylkill County and a troop would form soon afterwards in Berks County. Eventually, the Councils that resulted would merge to form the Hawk Mountain Council in 1971. The following timeline provides an overview of the growth of Scouting, locally, nationally, and internationally.
1907, Baden-Powell conducted the first experimental Scout Camp at Brownsea Island.
1908, Lynn G. Adams of Pottsville started a troop.
1910 William Boyce incorporated the Boy Scouts of America.
1916 the Reading Council had its first meeting.
1919 the Reading Council bought a tract of land at Indiandale.
1919, the Reading Council changed name to Reading-Berks County Council.
1921, E. Urner Goodman installed Indiandale Lodge 5 at Camp Indiandale
1930, Cub Scouting was introduced.
1931, the Schuylkill County Area Council had incorporated.
1931, Indiandale Camp was sold at a sheriff 's sale.
1937, the Reading- Berks County Council name became Daniel Boone Council
1938, Memeu Lodge 125 was formed in Schuylkill County Area Council.
1939, the state of Pennsylvania gave Daniel Boone Council permission to use a portion as Hopewell Camp.
1940, the Schuylkill County Area Council applied in Schuylkill County Court to change the name of the Council to Appalachian Trail Council.
1946, Hopewell camp was closed after the camping season.
1951, the Shikellamy Boy Scout Reservation camping season opened at Camp Unami.
1971, Appalachian Trail Council merged with Daniel Boone Council forming Hawk Mountain Council.
1978, the former Blue Mountain Reservation becomes Hawk Mountain Scout Reservation.
HMC Book Project
5027 Pottsville Pike
Reading, PA 19605-1284