On My Honor ... The Hawk Mountain Story ... 1908-2010
The Hawk Mountain Council Centennial Memory Book!
Price Reduced from $50 to Only $25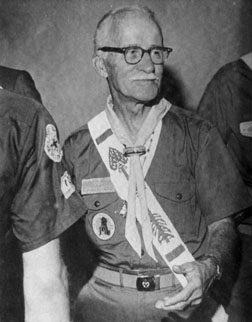 Chapter 11
Scouting's National
Honor Society -
The Order of the Arrow
The Order of the Arrow (OA) recognizes Scouts who, as identified by their peers, best exemplify the ideals of Scouting in their daily lives. Rooted in American Indian lore and traditions, and influenced by the ideals of various organizations and authors, the OA also aims to develop and maintain camping traditions and spirit, promote Scout camping, and launch the Scout habit of helpfulness into a life purpose of leadership in cheerful service to others. More than 1 million Scouts and Scouters have been inducted into the OA since it was started during the summer of 1915 by E. Urner Goodman, director of the Philadelphia Council's summer camp. The program is now a national program of the Boy
Scouts of America.
E. Urner Goodman and Carroll A Edson at Treasure Island
Wimachtendienk, Wingolauchsik, Witahemui
The Lenni Lenape
The Order of the Arrow
Minsi Lodge 5, Memeu Lodge 125, & Kittatinny Lodge 5
NOAC
Lodge Chiefs, Advisers, and Founders Awards
HMC Book Project
5027 Pottsville Pike
Reading, PA 19605-1284
NEWSPAPER ARTICLES
---
---