On My Honor ... The Hawk Mountain Story ... 1908-2010
The Hawk Mountain Council Centennial Memory Book!
Price Reduced from $50 to Only $25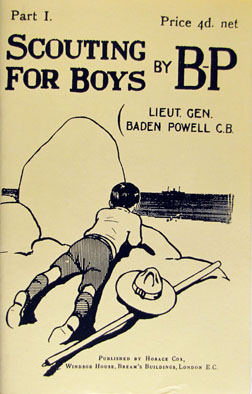 Chapter 3
The Origins of Scouting
The Boy Scout story is inspiring and unlikely – a testimony to the enduring spirit of adventure and quest for knowledge that has been central to the lives of boys for generations. The Boy Scout movement officially started in England in 1908 with the publication of the wildly popular "Scouting for Boys," but the real story of Scouting began in London on Feb. 22, 1857 with the birth of Robert Stephenson Smyth Powell. He was to become Col. Robert Baden-Powell, the World's Greatest Scout. A British Army hero who loved the outdoors, recognized the value of practical skills, and encouraged strong morality and character. He would become central to the Scouting movement, which is present today in 220 countries and territories around the world.
Baden-Powell enters the Military
Baden-Powell becomes a hero at Mafeking
Baden-Powell starts Scouting at Brownsea Island
Baden-Powell secures Gilwell Park and introduces Wood Badge
World Jamborees highlight world-wide Scouting
Scouting quickly spreads around the world.
HMC Book Project
5027 Pottsville Pike
Reading, PA 19605-1284
NEWSPAPER ARTICLES
---
---