On My Honor ... The Hawk Mountain Story ... 1908-2010
The Hawk Mountain Council Centennial Memory Book!
Price Reduced from $50 to Only $25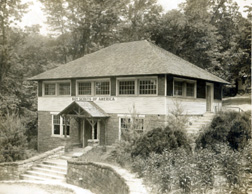 Chapter 8
The Good Times...
Camps and Reservations
Camping has been an integral part of Boy Scout life ever since Robert Baden-Powell established the first summer camp on Brownsea Island, off England's southern coast, in 1907. Every summer, thousands of Scouts attend camps and reservations across the country, where they participate in activities ranging from leather work to white water rafting. Today's camp experience is likely to include mountain biking and computer sessions – activities not even imagined when Baden- Powell gathered 20 Scouts and taught them practical skills such as tracking, signaling, pioneering and first aid – but the spirit of Boy Scout camp remains true to his vision.
The first camps were on farms.
Berks Council Camps were Indiandale, Howard, Hopewell, and Shikellamy
Schuykill County Council Camps were Blue Mountain, Greenwood/Rotary, Nisatin.
Many small camps were used by troops.
Nisatin became Hawk Mountain Scout Reservation in 1978. Shik was sold.
Pappy became Camp Ranger at Shikellamy in 1961.
Blue Mountain/Hawk Mountain Scout Reservation has been a Council Camp since 1931.
Ray Landis developed the Cub Day Camp program in 1972.
Paul Hafer & Richard Laudenslager worked hard to develop Camp Shikellamy
Marlin Miller and Brian Shober were among many that made the conversion of Blue Mountain Scout Reservation into Hawk Mountain Scout Reservation.
Many Troop had strong camp traditions.
HMC Book Project
5027 Pottsville Pike
Reading, PA 19605-1284
NEWSPAPER ARTICLES
---
---