News for IFSR Members
---
Publicize IFSR in your District & Club Newsletters
William Litton, the IFSR Coordinator for District 6980, wrote an article in their district newsletter about IFSR. Here is a version of his article that could be used in the U.S. in your district's or club's newsletter. For a Word .doc version click here. This can be modified slightly for other countries.

Were you involved in Scouting as a youth or do you have a son that is currently in the Scouting program? If so, there is a Rotary Fellowship for you, The International Fellowship of Scouting Rotarians. IFSR is an international group of Rotarians that are also involved in the Scouting program at the local, national, and international levels. Membership dues are $35.00 for new members and include the IFSR pin. If you are interested in joining the IFSR visit their website at http://ifsr-net.org . Two of the documents available at the website are the IFSR Membership Application http://scouters.us/ifsr/documents/membership_application_mar_2011.pdf and the IFSR Brochure http://scouters.us/ifsr/documents/IFSR_brochure_Mar_2011.pdf .
Membership in the International Fellowship of Scouting Rotarians is open tony Rotarian, in any country, who was formerly or is presently a member or supporter of any (girl or boy) Scout or Guide Association. Spouses of members and Rotaractors may become members.
The principles and goals of Rotary, Scouting and Guiding are closely aligned. Character building; service to country, to others, and to self; teaching leadership skills; and becoming aware of the world around us-these are all incorporated into the programs and activities of each organization. The values expressed in Rotary International's Motto and the Four Way Test greatly parallel those articulated in the Scout Oath, Law, Motto, and Slogan.
In addition, the local Scout councils are working to find former scouts that are not connected and involved with the local Scouting movement. If you are former Scout alumni, it is time for you to reconnect with the Scouting program and re-engage in Scouting. Visit the BSA Alumni Website at http://scouting.org/Alumni/Reconnect.aspx to reconnect with Scouting and find out the great things that are happening in Scouting.
If you would like to have more information on the International Fellowship of Scouting Rotarians (IFSR), please contact your District IFSR Coordinator or visit the IFSR website http://ifsr-net.org .
[NOTE: you need to replace "your District IFSR Coordinator" with the IFSR contact for your district.]
---
Silver Wheel Nominations Sought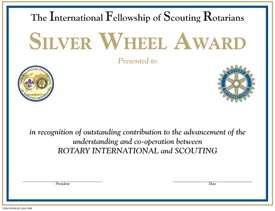 Each year IFSR recognizes IFSR members (Rotarians or Rotaractors) who have made unique and outstanding contributions through IFSR to Girl Guiding/Scouting or World Scouting and Rotary International.
This is not a Scouting award but an IFSR award and thus we want to honor those of our members who have contributed in an outstanding fashion.
Nomination forms are available and should be submitted by the first of May to our IFSR office which will forward them to the Awards and Recognitions Chair who will make recommendations to the IFSR Executive Committee and the recognitions presented at the IFSR Annual General Meeting at the annual RI Convention.
Download a copy of the Nomination Form. Nominations must be submitted to the IFSR office 4 weeks prior to the IFSR Annual General Meeting. Chair Bud Allison, the Awards and Recognitions Chair, will make recommendations to the IFSR Executive Committee. The recognitions are presented at the IFSR Annual General Meeting.
---
CSE Elect Wayne Brock Speaks at IFSR Interamerican Region Meeting
BSA's Chief Scout Executive elect Wayne Brock joined the InterAmerican Region annual general meeting, under the leadership of regional Chair Phil Pfeffer, in Orlando on 1 June. Past IFSR President Harold Friend had invited Wayne to attend and share his vision.
CSE elect Wayne discussed the challenges and opportunities of membership growth in this new Century. Wayne is a former Rotarian but his current position does not allow him to be a member of any one service organization - although he spoke with familiarity of the 4 Way Test, Interact, Rotaract, youth exchange, etc.
With help from Rotary Clubs and other community organizations, we can regenerate the enthusiasm and support for new Scouting and Venturing and Sea Scouting units throughout BSA, he said. CSE Elect Wayne also strongly thanked those present - members from all over the Region including several IFSR Silver Antelope members - for their consistently strong support for Scouting within Rotary and encouraging Scouts and Venturers and Sea Scouts to participate in Rotary programs.
---
IFSR's Hal Daume Teaches Scout Life Saving, Scout Saves Father's Life 3 Days Later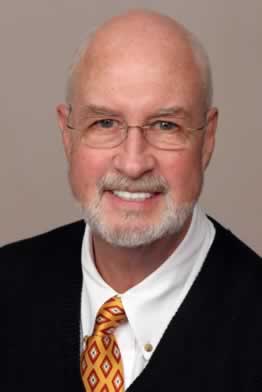 Hal Daume reported that in Rotary District 7510 (New Jersey counties of Hunterdon, Mercer, Middlesex, Somerset, and Union), since July 2008 they presented over 300 IFSR Certificates of Achievement to Eagle Scouts and Girl Scout Gold Awards, and we expect to top 350 by June this year. Over two dozen clubs and nearly 60 Rotarians were involved in this initiative. For more on this program see "District Certificate Presentation Program."
He went on to report that a Scout who he had taught Life Saving merit badge, had saved his father's life just 3 days later.
"It's a wonderful story of a series of circumstances where a young man knew exactly what to do and he did it," said Hal Daume, of Berkeley Heights. Mr. Daume served as Brian's Life Saving merit badge counselor and went on to say, "This is what it's all about: Go back to the Boy Scout motto – he was prepared."
See the full story: A Breath of Fresh Air: New Providence Teen Rescues Drowning Father
---
IFSR Members Receive Silver Antelope
IFSR members Stephen J McCollister & Bob Stuart were recognized at the 2012 National Meeting of the BSA with the Silver Antelope Award for Distinguished Service on an area or regional basis.
Stephen J. McCollister

Bob Stuart

Steve, with over 43 years of service, has served as assistant Scoutmaster, Chartered Organization Representative, and Scoutmaster. He as served as District Commissioner, District Committee Member, Council Jubilee Chair, Council Commissioner, Council Executive Committee Member, Tornado Volunteer & Donations Coordinator, District Operations Chair, and as a Board Trustee. He has served as Area 5 Mission Impact Chair, Area 5 President, Central Region Board Member, Regional Membership Standards Committee Chair, and Eagle Scholarships Selection Committee Member.

His Scouting recognitions include the James E. West Fellowship Award, Silver Beaver, District Award of Merit, Doctorate of Commissioner Science Award, Community Organization Award, and he is an Order of the Arrow Vigil Honor member.

When asked what one Scouting achievement he was most proud of, he said it was being able to serve for three solid months after the tragic tornado at the Little Sioux Scout Camp helping to organize volunteers, handle offers of help from all over the world, and prioritize assistance given to the affected families.

Stephen and his wife Pat have four sons, a daughter, and eight grandchildren. He is president of McCollister-Stokes, having earned a BS in business administration from the University of Nebraska.

He is active in his Lutheran Church having served as deacon, ruing elder and director of safety and securities ministries., chaired the Metro Omaha Area Planning Agency and the Douglas County Board of Health. He is a past president of the Omaha Downtown Rotary Club and has served as a trustee of the Douglas County Hospital, and board member of the Omaha Children's Museum, and Creighton University Medical Center.

Bob is a partner in Brown Hay & Stephens, which was founded by his great‐great grandfather John Todd Stuart in 1828, the oldest law firm in the state of Illinois. He chaired the ISBA Estate Planning Section Council. He is a fellow of the American College of Trust and Estate Counsel and of the American Bar Foundation as well as advisor to Leading Lawyers Network. In Springfield, he has chaired the Chamber of Commerce, the United Way Campaign and the United Way Foundation. He is Vice President of the National Recreation Foundation and of the Abraham Lincoln Association. For service in masonry, he has been awarded the 33rd degree. The Illinois Association of Park Districts presented him its lifetime appreciation award.

Bob has served as trustee and elder in his church.

Bob has been Rotary club president, district governor and one of 17 directors on the international board of Rotary International. He chaired RI's constitution and bylaws committee, raised funds for Rotary's 7 global Peace Centers and sits as vice chair of the Operations Review Committee which provides global oversight for its secretariat operations in over 200 countries in 7 offices. The Rotary Foundation has awarded him its Citation for Meritorious Service and its Distinguished Service Awards.

Bob received attained the rank of Eagle Scout in December 1962. He has served as President of the Abraham Lincoln Council and a Trustee of its endowment. He is currently Co Chair of the Council's NESA chapter. For the past 3 years Bob has served as Area President assisting 12 councils in 4 states receiving the outstanding area trophy out of 7 areas for 2 of the 3 years. He has been awarded the Distinguished Eagle, the Silver Beaver and has been nominated to receive the Silver Antelope.
---
WOSM & IFSR Sign Memorandum of Understanding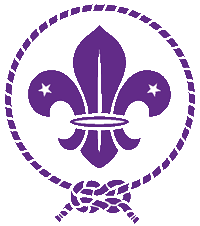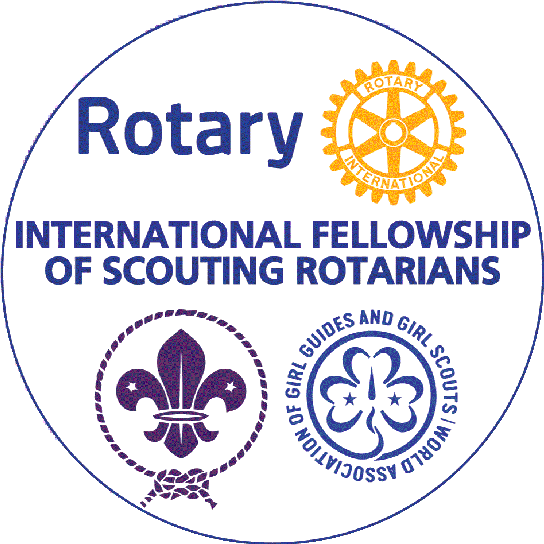 The World Organization of Scouting Movements (WOSM) Chairman Simon Hang-Brock Rhee and IFSR President Brian D. Thiessen completed signing a Memorandum of Understanding on July 7, 2012. The full text of the document is available on line.
The document reaffirms the intention of both organizations to strengthen their relationship by cooperating at Rotary and Scouting events and programs.
---
New Generations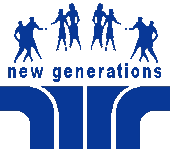 District 5320 and Orange County Council BSA incorporate Scouting into New Generations programing . PDG Lane Calvert of D-5320 (who is also New Generations Director of D-5320 and a Scout Executive himself, has created an excellent Power Point presentation on blending Interact, Rotaract and Youth Leadership Workshops (including RYLA) with Scouting, Youth Exchange, etc. This can be used by any District or any IFSR member.
Contact Lane at or his phone (714) 906 0929 for more information on what you and I can do in our Districts to enhance Scouting/Rotary networking, service and fun!
---
Rotary Banquet Recognizes Eagle & Gold Scouts
Honorees with Dignitaries


Honoree with
PDG Rich Panyik


PDG Gary Moore
Eagle Scout and Gold Award Scout Recognition Day Banquet
The Rockdale County, Georgia, Rotary Club recognized 17 Eagle Scouts and one Gold Award Scout for achieving the highest award in Boy Scouts and Girl Scouts. The awards were presented on February 16, 2012, at their annual Eagle Scout and Gold Award Scout Recognition Day Banquet. Recognitions were presented from the Newton and Rockdale County Commissioners, the Georgia House of Representatives, the Sheriff, and IFSR. The guest speaker was business leader and Past District Governor, Richard Panyik, who wore Native American regalia.
At this banquet, Scouts are afforded the opportunity to meet people of recognized ability, achievement and prestige in their vocational field. By matching a Vocational Mentor with each honoree, it is the goal that each Scout will become acquainted with the preparation and training required, employment prospects, an understanding of the economics of the trade, profession or business, and its contribution to society.
They also recognized leadership of the Nagataman Order of the Arrow Chapter. The host was PDG and IFSR member Gary Moore
---
Rotary Club recognizes Chief Scout recipients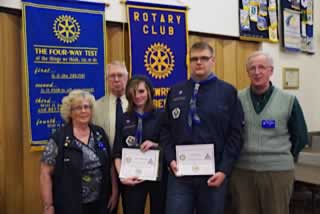 The Rotary Club of Wainwright, Alberta, Canada recently recognized presented IFSR recognition certificates to two of its Scouts who had received the Chief Scout's Award -- members of the Scout Group the RC of Wainwright
sponsors. Pictured, left to right are Wilma Anderson (President of
Wainwright RC), Ross Hallett (Canada IFSR Chair), Chief Scout recipients Margaret Kloppenburg and Matthew Snow, and Scout Group Commissioner Ellis Jagoe. Congratulations to all!
---
Australian Club Honors 6 Queen's Scouts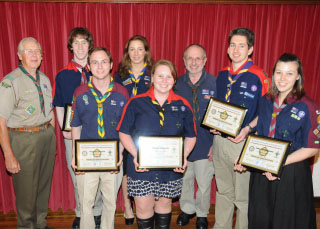 This group photograph was taken after the presentation of certificates to six Queen's Scouts during a meeting of the Rotary Club of Rosanna. The certificates were presented by the immediate past district governor of in District 9790. He had been DG when we first consulted him regarding the possibility of recognizing Queen's Scouts in our District.
As part of their award scheme, Venturers may qualify for the Queen's Scout Award up to their 18th birthday. In the attached photo, you will see youth dressed in two different uniforms. The uniforms with the red shoulder are worn by Venturers who became members of a Rover Crew after their 18th birthday. Other Venturers in the photograph are wearing their Venturer uniform.
As the photograph shows, we are not members of the "Boy Scouts" in Australia, but rather "Scouts". We have both female and male members and leaders in each Section of "Scouts Australia".
The certificate that was presented to these young adults was designed by long-time Scouter, Peter Datson, who, while not a Rotarian, was a RYLArian and has maintained his contacts with Rotary over many years.
---
Dochterman & Wolfstein at Conference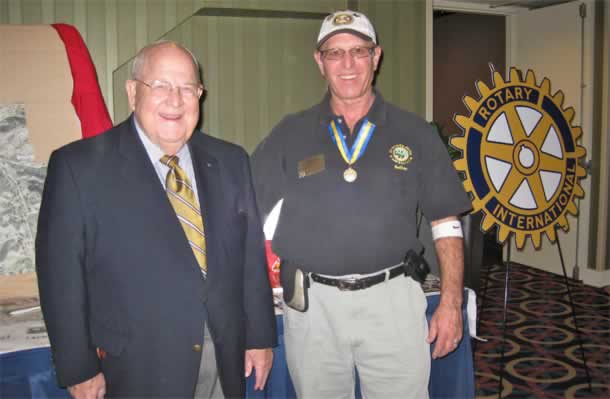 Cliff Dochterman and Nathan Wolfstein at the March 16 and 17, 2012, Sixth Rotary Emergency Disaster Initiative Conference - in Berkeley, California. IFSR's Nathan Wolfstein and Cliff Dochterman were presenters at this conference. Nathan explained to Rotarians the importance of Scouts getting involved in Disaster preparedness and the types of training they receive at the Camporee/Cubaree for Cahunega District of West LA County Council, BSA. This year's Camporee will be held 20-22 April at the Tejon Ranch and IFSR members who are interested in getting their Scouts involved in this urgent activity can contact Nathan at naw1111@aol.com
---
IFSR Report to Rotary International
IFSR Report in May 2012 Fellowship Advancer
International Fellowship of Scouting Rotarians Develops international relationships among Rotarians who are or have been active members of the Scout movement.
Scoutinq Rotarians continue to expand activities. In the last several months IFSR has had Exhibits at Zone Institutes and District Conferences throughout the USA and Canada, but also in India, and in Italy, and at the RIBI Conference at Bournemouth.
Our Scoutinq Rotarian newsletter (Editor Steve Kesler) is published every 3 months and our ifsr-net.orq web site (Steve Henning, Editor) has current articles about Scouting & Rotary.
IFSR also was invited to Exhibit at the Centennial World Association of Girl Guides and Girl Scouts (WAGGGS) Conference in Edinburg, Scotland in July 2011 and the Centennial Girl Scout - USA Convention in Houston, Texas in November 2011 - thanks to our Vice President Joie Hain.
Further we had a booth at the 2Znd World Scout Jamboree in Sweden where we sought to share with the 39,000 participants from all over the world the opportunities for Scouting and Rotary to cooperate so youth and leaders may earn scholarships, Peace and Conflict Resolution Fellowships, youth exchange, Rotary Youth Leadership Academies, end polio and jointly develop a wide variety of local and international projects. Two Rotary Club meetings were held, thanks to Jamboree Chair Goran Hagerdal and IFSR Jamboree co-chairs Dag and Christine Ivarsson - all 3 were recognized with Cliff Dochterman awards by their Rotary Clubs in Sweden.
Our IFSR membership has increased more than 10% this year and we now have IFSR members in over 45 countries. Over 600 Cliff Dochterman Awards have been made, in many countries - recognizing Rotarians who are active leaders in Scouting and Guiding around the world. We have also added IFSR recognition Certificates as now being available to recognize not only Scouts in Canada who receive Scouts Canada's highest award, but Girl Guides of Canada Guides who receive Guiding's highest award. These new recognition certificates are being used by Rotary Clubs throughout Canada just as the Girl Scouts in the USA who earn the Gold Award (and Boy Scouts who receive the Eagle, Quartermaster or Venturing Silver Award) may be recognized by Rotary Clubs throughout the USA.
Brian D. Thiessen President - IFSR (PDG 5160 2005-06)
---
New Scout Center in Czech Republic
IFSR President Brian Thiessen, right, with Zdenek Michalek, President of the Ostrava Rotary Club, the Vice President of the Scouts of Czech Republic and a past District Governor at the new Scout Center Vanaivan in Koprivnice, Czech Republic in November of 2009. The Vice President of the Scouts of Czech Republic spent 11 years in prison during the communist times solely because he was a Scout leader!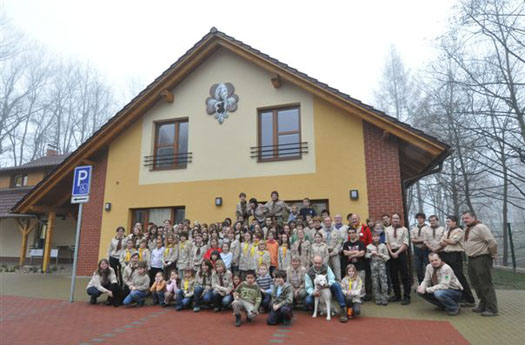 Scouts in front of the new Scout Center Vanaivan in Koprivnice, Czech Republic opened in November of 2009!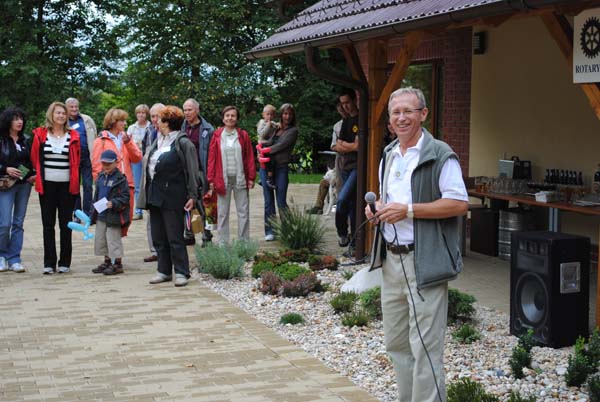 In the photos above and below, taken August 28, 2010 at the Scout Center in Koprivnice, Scouts are working to develop a 'small Gilwell' on the land surrounding the new building. The 'small Gilwell' is also a Rotary District project there in eastern Czech Republic!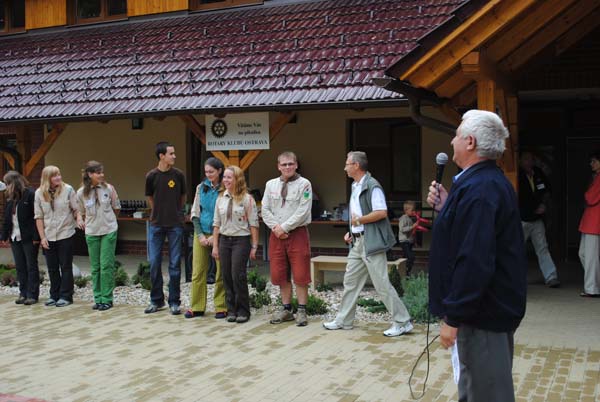 ---

Rotary Global History Fellowship Features IFSR
The Rotary Global History Fellowship has added information about the International Fellowship of Scouting Rotarians to their website, including information about the Cliff Dochterman Award. Visit them at www.rghf.org .
---
IFSR Organizing Committee for Morocco

In an exciting sequence of events, the IFSR Organizing Committee for Morocco was officially created on January 9, 2010. The members are:
Rtn. Abdelhaq LARAÏCHI - Chair
Rtn. Alain Roux - Vice Chair and Treasurer
His Excellency Ambassador Rtn. Mosud Mannan - Secretary
---
Scouts in Cumbria Aid Flood Victims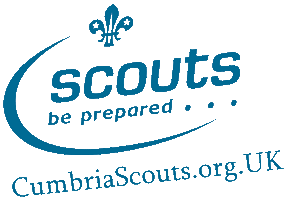 The flooding in Cumbria in November 2009 left many families without homes and possessions.  Rotary Clubs throughout District 1190 moved into action with practical help and fund raising.  Two members of IFSR - Don Cooper (RC of Wigton) and Tim Keegan (RC of Kendal), both active Assistant District Commissioners  - decided to try  to provide support for young people who had lost their toys and books.
So in Scout Districts Kentdale and Solway/Derwent, members of the Movement were asked to bring wrapped presents. In Kentdale Beavers and Cubs brought them to their annual Carol Service. With contributions also from Northallerton District in North Yorkshire, well over 350 toys were collected. They were delivered to a community center in Cockermouth, the worst affected town.  Prior to Christmas the presents were distributed to bring a little cheer to children.
---
Merit Beyond The Badge

Recent Baylor University Research finds that Scouts who attain Scouting's highest rank demonstrate enhanced values, ethics, decision-making abilities, relationships, and personal development.

 
---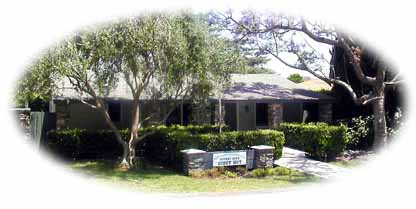 This site last updated on Tuesday, October 9, 2012