Linked In

IFSR Group
News for IFSR Members
---
Publicize IFSR in your District & Club Newsletters
William Litton, the IFSR Coordinator for District 6980, wrote an article in their district newsletter about IFSR. Here is a version of his article that could be used in the U.S. in your district's or club's newsletter. For a Word .doc version click here. This can be modified slightly for other countries.

Were you involved in Scouting as a youth or do you have a son that is currently in the Scouting program? If so, there is a Rotary Fellowship for you, The International Fellowship of Scouting Rotarians. IFSR is an international group of Rotarians that are also involved in the Scouting program at the local, national, and international levels. Membership dues are $35.00 for new members and include the IFSR pin. If you are interested in joining the IFSR visit their website at http://ifsr-net.org . Two of the documents available at the website are the IFSR Membership Application http://scouters.us/ifsr/documents/membership_application_mar_2011.pdf and the IFSR Brochure http://scouters.us/ifsr/documents/IFSR_brochure_Mar_2011.pdf .
Membership in the International Fellowship of Scouting Rotarians is open tony Rotarian, in any country, who was formerly or is presently a member or supporter of any (girl or boy) Scout or Guide Association. Spouses of members and Rotaractors may become members.
The principles and goals of Rotary, Scouting and Guiding are closely aligned. Character building; service to country, to others, and to self; teaching leadership skills; and becoming aware of the world around us-these are all incorporated into the programs and activities of each organization. The values expressed in Rotary International's Motto and the Four Way Test greatly parallel those articulated in the Scout Oath, Law, Motto, and Slogan.
In addition, the local Scout councils are working to find former scouts that are not connected and involved with the local Scouting movement. If you are former Scout alumni, it is time for you to reconnect with the Scouting program and re-engage in Scouting. Visit the BSA Alumni Website at http://www.scouting.org/Alumni.aspx to reconnect with Scouting and find out the great things that are happening in Scouting.
If you would like to have more information on the International Fellowship of Scouting Rotarians (IFSR), please contact your District IFSR Coordinator or visit the IFSR website http://ifsr-net.org .
[NOTE: you need to replace "your District IFSR Coordinator" with the IFSR contact for your district.]
---
In Memorium: PDGDavid Judge
YOU can Travel the world and help IFSR!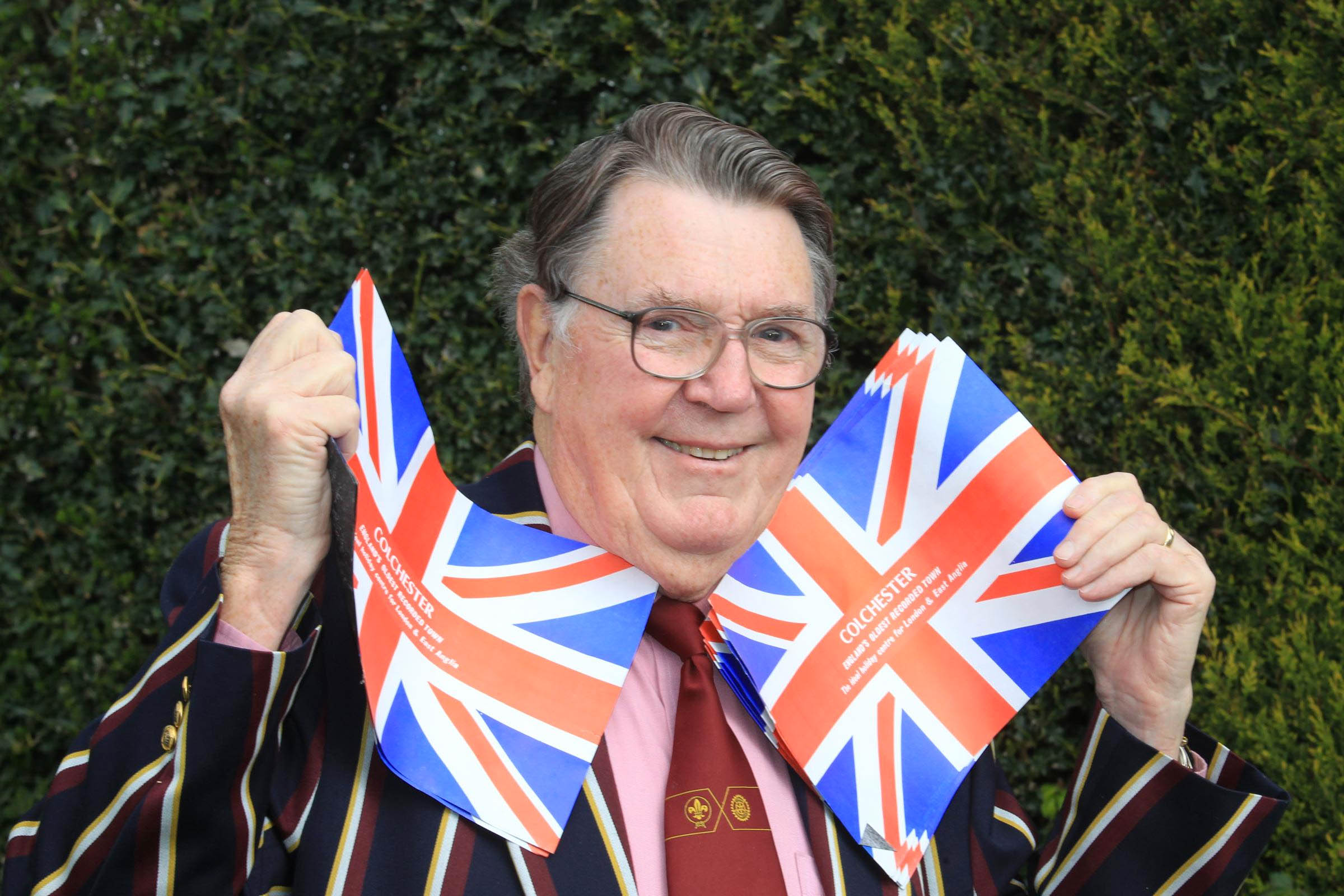 A great leader in Rotary and Scouting, PDG DAVID JUDGE, MBE, from Colchester, UK, who served as World President of IFSR, passed away at age 78 on September 27th. He began his lifetime passion after joining the Sea Scouts when he was 10 years old. David was very involved in the formative years of IFSR over 30 years ago. He and his wife of 25 years, Christine, were active in promoting IFSR at many Rotary conventions and World Scout Jamborees. He had a passion for traveling and attended many Rotary RIBI and Zone meetings, International Assemblies, a vast array of Scouting events and was a strong supporter of activities at Gilwell Park.  He could always be depended upon, whether to assist in the IFSR booth at the conventions or helping to recruit new members throughout the world.  It was as if he never had time to rest, always trying to create a better program and improve the lives of others by his actions. He exemplified "Service Above Self."
Tributes have been paid to a man who dedicated his life to others. Devoted royalist David Judge was a leading light in the Rotary club and the Colchester Sea Scouts. He was described by friends as a "human dynamo" who was an inspiration to all who knew him.
Mr. Judge, who lived in Cottage Drive, Colchester, died at St Helena Hospice on Tuesday after suffering from multiple myeloma, a form of blood cancer. He was 78.
His wife, Christine, was at his side. She said: "We had been married for 25 years and it was a privilege to have been with him for that time. "We had a marvelous life. I was with him and holding his hand. I would not have left him."
Mr. Judge became an MBE for his services to the community. He had been introduced to community work as a child. His mother Aileen, was involved in the League of Hospital Friends at Essex County Hospital and he played his part by collecting litter left after the hospital fete.
He was one of the founder members and was a past president of Colchester Forum Rotary Club and between 2002 and 2008 was the world president and chairman of the International Fellowship of Scouting Rotarians. Mr. Judge was Rotary district governor for Essex in 1999 and was invited to a Royal garden party in Buckingham Palace.
He was also a dedicated supporter of Colchester Sea Scouts having joined the 17th Colchester Sea Scouts when he was ten-years-old. He was with them for more than 60 years including serving as the group's president.
His love of the sea cadets and the influence of his uncle Maurice Ransom, an engineer lieutenant in the Royal Navy, lead him to sign up for the navy for his National Service. In 21 months, between 1956 and 1958, he covered 47,000 miles and visited 16 countries, the beginning of his wanderlust which continued throughout his life.
After completing his National Service, he worked for the stationers Ryman before joining Markhams in 1961. He started Markham's Office Equipment, which had an office in Colchester High Street, and he built the company up before buying it himself. He stayed with the company for 32 years, along with his other business interests in Moel Contracts, Moel Technical Services and Moelprint.
Mr. Judge was a lifelong Royal supporter and he helped to organize the celebrations in Colchester for the Queen's Silver Jubilee. He was chairman of the Colchester and District Jubilee Coordinating Committee and was involved in organizing a range of activities to mark the historic day.
He remembered, with his usual good humor, standing on the steps of Colchester Town Hall on Monday, June 6, 1977, getting wetter and wetter as the rain fell.
As well as the parties, Mr. Judge was recorded in the Guinness Book of Records for the largest painting in the country. The montage was divided into 5,000 pieces and Mr. Judge was sponsored £1 for each he painted.
Mr. Judge also leaves a daughter, Christine Deane, from his marriage to his first wife, Nadine, who died.
David will be truly missed.
---
Help Wanted at Rotary Zone Meetings
and Other Events
YOU can Travel the world and help IFSR!
The following are upcoming Rotary Zone Institute (ZI) dates/locations and other events. They are great locations for you and your family to help IFSR. If you can handle our IFSR exhibit there please notify President Mark Kriebel or Brian Thiessen.  Send us information re other zone institutes or regional scout conferences in your area of the world! Please help! !
Date                    Zone
Location

May 2017

24-26            Meeting


BSA National Annual Mtg,Orlando, Florida, Marriott WrldCntr


June 2017

10-14 Jun     Convention

23-25           Gathering

RI Convention, Atlanta, Georgia

Olave Baden Powell, Gilwell Park, London, UK

July 2017

19-28            Jamboree

14-1 Aug       Jamboree

BSA Nat'l Jamboree, Summit, West Virginia

31st Asia Pacific Jamboree, Mongolia

September 2017

31 Aug-1 22, 2 A
1-3         8
7-10       30, 31
8-10     7B Oceania & NZ
14-17     21B, 27
15-17     20A

Atibaia, SP, Brazil Xanardi
Darwin, Australia, Trevaslos, Darwin ConfCntr
Springfield, Il., Yank
Auckland, NZ, Trevaslos, Waipuna ConfCntr
Houston, Podd, Omni @ Riverway
Johannesburg SA, Dinca/Owori

October2017

5-8        23B, C
12-15     33, 34
13-15    15, 16, 17, 18A
17-19    11,12,13,14,18B
19-21     24, 32
25-29     28, 29
25-27     9, l0A
27-29     30, 31

Santa Cruz Bolivia, Aufranc, Zanardi
Orlando, Fla. Mulkerrin, Rosen Centre
Riga, Latvia, Ahlberg/Stoyel
Montpellier, France, Dinca; Allonneau, Iblher
Hartford, Ct., Rohrs, Hartford Marriott
Chicago, Kneper, Westin Chi NW
Seoul, Korea, Moon
Springfield, Ill., Wyndham Springfld

November2017

3-5        19, 20B
10-12     25, 26
16-18     21A
20-23     1, 2, 3

Cluj Napoka, Romania, Dinca,Grand Hotel Italia
Reno, Nevada, Matthews, Peppermill
Medellin, Colombia, Aufranc
Tokyo, Japan, Saito/Ishiguro

December2017

1-3     4, 5, 6A
1-3     6B, 7A, 1OB

Kuala Lampur, Chockalingarn, Sunway Resort
Taipei, Taiwan, Lin, Grand Hotel Taipei
For a PDF copy of this 2017 Zone Institute Schedule suitable for printing click here.
Let President Mark Kriebel or Brian Thiessen know of Scouting or Rotary events where YOU can set up and staff an IFSR booth, please.
---
IFSR - Rotary Trifold Flier
IFSR has just released the IFSR - Rotary trifold flier that describes what Rotary is on one side and what IFSR is on the other side. This joins an impressive list of materials available to IFSR Scouting Rotarians:
| | |
| --- | --- |
| Article to Publicize IFSR in District and Club Newsletters | (DOC) |
| Avenues of Service Suggestions Brochure | (PDF) |
| Avenues of Service Suggestions Brochure - Spanish | (PDF) |
| BSA Organizing a Unit at the Rotary Club 1999 Printing | (PDF) |
| Centennial Project Brochure | (PDF) |
| Cliff Dochterman Award* | (PDF) |
| Constitution - 6-07 revision | (PDF) |
| Combined Certificate Order Form (Eagle, Gold, & Canadian) | (PDF) |
| Eagle/Gold Scout Certificate Template | (DOC) |
| IFSR Brochure | (PDF) |
| IFSR Brochure - Spanish | (PDF) |
| IFSR Membership Application | (PDF) |
| IFSR - Rotary Trifold Flier | (PDF) |
| IFSR Supplies Order Form | (PDF) |
---
IFSR leadership position Nominations
Selection of the IFSR is completed by 1 January for positions for the next Rotary Year.
Send self-nominations, or nominate others, to Nom. Comm. Chair Brian D Thiessen at bdtalamo@pacbell.net.
For InterAmerican Region Nominations send them to Dan O'Brien at daobrien@bsamail.org or daniel.obrien@scouting.org

Thank you, Brian Thiessen
---
Silver Wheel Nominations Sought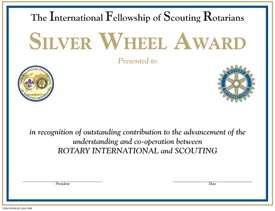 Each year IFSR recognizes IFSR members (Rotarians or Rotaractors) who have made unique and outstanding contributions through IFSR to Girl Guiding/Scouting or World Scouting and Rotary International.
This is not a Scouting award but an IFSR award and thus we want to honor those of our members who have contributed in an outstanding fashion.
Nomination forms are available and should be submitted by the first of May to our IFSR office which will forward them to the Awards and Recognitions Chair who will make recommendations to the IFSR Executive Committee and the recognitions presented at the IFSR Annual General Meeting at the annual RI Convention.
Download a copy of the Nomination Form. Nominations must be submitted to the IFSR office 4 weeks prior to the IFSR Annual General Meeting. Chair Bud Allison, the Awards and Recognitions Chair, will make recommendations to the IFSR Executive Committee. The recognitions are presented at the IFSR Annual General Meeting.
---
IFSR Has New My Rotary Discussion Group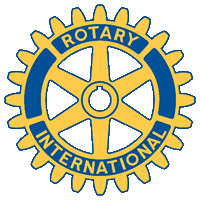 IFSR now has a Discussion Group on the My Rotary part of the rotary.org, Rotary International's home website. Hopefully, we can open up discussions to all IFSR members and prospective members.
Thanks to Rotary International for providing this opportunity to engage in discussions about Scouting and Rotary.  We invite you to offer topics for discussion, sharing of best practices highlighting the synergies between Scouting and Rotary, and reports of successful promotion and support of Scouting by Rotary Clubs and support of Rotary by Scouts and Scouting.  If you are not yet a member of our Fellowship, please consider a membership in the International Fellowship of Scouting Rotarians!
To join the IFSR Rotary Discussion Group, click on the link below : https://www.rotary.org/myrotary/group/node/256941/subscribe
Warning, my experience has been the Rotary website is very slow. It typically takes 8 to 28 seconds for a page to open. Hopefully this is a temporary problem. Also, navigation within the site is awkward. You can always click on the words "International Fellowship of Scouting Rotarians" at the top of any of the group pages to go back to the IFSR group home page.
---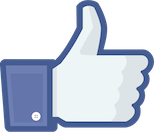 IFSR Has Over 1,000 LIKES
In its first year, the IFSR Facebook page attracted 1,024 likes from 45 different countries ranging from 150 likes from Egypt to 2 likes from Sri Lanka.  Other countries represented include: Angola (3), Argentina (62), Australia (21), Bangladesh (7), Brazil (105), Canada (15), Chile (14), Colombia (44), Costa Rica (4), El Salvador (2), Ethiopia (3), Ghana (4), Greece (2), Guatemala (2), Honduras (2), India (4), Indonesia (62), Italy (9), Japan (5), Libya (2), Malaysia (23), Mexico (90), Morocco (2), Nepal (5), Netherlands (2), Nigeria (4), Norway (4), Pakistan (7), Paraguay (2), Peru (10), Philippines (111), Portugal (6), Puerto Rico (3), Saudi Arabia (2), South Korea (4), Sweden (2), Taiwan (4), Thailand (7), Tunisia (5), Uganda (4), UK (4), USA (125), and Venezuela (40). There were also 34 for which the country was unknown.
The IFSR Facebook page is at:  https://www.facebook.com/InternationalFellowshipOfScoutingRotarians. If you are on Facebook and you haven't done it yet, go to the IFSR Facebook page and LIKE it.  Then all of your FRIENDS will be notified of this and some may actually follow the link to the IFSR home page and think about joining.
---
Rotary Clubs Partner With Scout & Guide Units

Bill Oakley is a member of the Rotary Club of North Balwyn, Melbourne, Australia and involved with the Plenty Valley Region Scouts. He has a model where individual Rotary Clubs develop a partnership with a nearby Scout Group. His Rotary Club has established a partnership with the 1st North Balwyn Scout Group. Their Rotary Club has a category called Friends of the RC of North Balwyn for people who do not want to become Rotarians but want to retain contact with our club. The Group Leader of the 1st North Balwyn Group has been made a Friend, and periodically attends our dinner meetings. We're usually represented at the Groups AGM etc. More specifically:
The Rotary Club provided some "employer interviewers" for the Venturers to practice job interviews
The Scout Group participated in the local Multicultural Festival organized by our Club
The Scout Group has supported several of Rotary fundraising projects, especially one whereby they do breakfasts for officials at the Melbourne Formula One Grand Prix.
They have helped the RC of Canterbury to similarly form a relationship with the 1st Canterbury Scout Group.
The North Balwyn Club also has a good relationship with the local Scout Camp, Clifford Park. They have sponsored the installation of a commercial dishwasher, and regularly lend, borrow and exchange equipment and facilities. Their Rotary Club has used the Scout Camp for some of their events. Our incoming Rotary Club President works for the Girl Guides and they are developing similar partnerships/relationships with the Guides. The Guides are taking an interest in some of the International service projects our RC does in the Solomon Islands. The photo above is Bill Oakley in the Solomon Islands.
As a result of this service and this story about it, the North Balwyn Club will receive the IFSR Youth Service Award. For more about this award see the next story.
---
Award for Rotary Clubs Partnering with Scout & Guide Units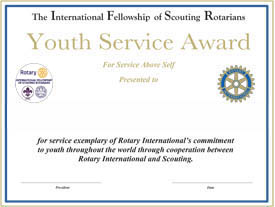 The IFSR has created an award for units that "render service in support of Scout and/or Guide activities" called the IFSR Youth Service Award. The preceding story is a perfect example of how this can be done. The next story has examples of other partnerships. Some examples of what Rotary Clubs are doing:
Work together on a community service project.
Perform a service project at a Scout or Guide camp.
Form a partnership with a Scout and/or Guide unit.
Recognize Scouts & Guides who attain the highest rank with IFSR Certificates.
Recognize Scout & Guide units who perform community service with the IFSR Community Service Award.
For specific examples of such projects look at what the IFSR Youth Service Award winners have done. Links to reports of their service projects are listed on the IFSR Awards page.
One caveat of this award, news of the activity must be "posted in media and on-line" where others can see what was done. This way, not only is service performed, but also it will serve as a example of what other Rotary Clubs can do.
An additional caveat is that the award must be downloaded and printed locally. This is to ensure that the award is distributed in a timely fashion and is not limited by any expenses in printing and shipping.
For more on the IFSR Youth Service Award, go to the IFSR Awards page.
---
Western Australian Scouts and Rotarians Work Together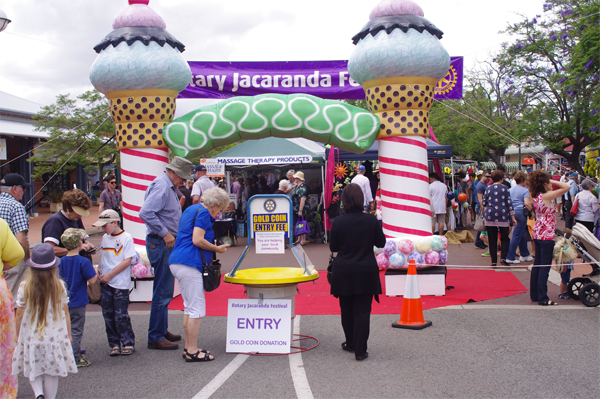 Llew Withers, a Scouter for over 20 years and a Rotarian for about the same time, is a Scouting DC for the Melville District in Western Australia and a Rotary AG for District 9465. Prior to 2015 he was active with the Waylen Bay Sea Scouts for about 9 years.
Over the last few years he have been building friendships between Rotary & Scouting. Both organizations are very successful and run on parallel pathways. Finding intersections where the two can meet is always a challenge. He has 5 Scout Groups & 5 Rotary Clubs. Some joint projects in his District are:
Waylen Bay Scouts assist the RC Applecross to set up & take down pop up shelters for the Jacaranda Festival (Nov each year) and manning 2 BBQ stations during the day. Rotary makes a donation to the Scout Group including the purchase of about 4 outboard motors, cash & other goods over the past 10 years.
Attadale RC with Waylen Bay Sea Scouts co-sponsored the setting up of the Attadale Scout Group. The Attadale RC provided the inaugural Group Committee for about 6 months and prepared a successful $8,000 grant from Lottery West. The Attadale RC helps the new Group with purchase of tents and flys for camping. As an Attadale Rotarian & (former Group Leader with Waylen Bay) I took on the GL role until the new Group Leader was recruited and trained. The Group has 41 youth & 7 Leaders & 3 Adult Helpers in less than 2 years.
Melville Rotary Club recently purchased a box trailer with canopy to help the Attadale Scout Group.
Melville Rotary Club sponsored Waylen Bay Sea Scouts for $10,000 to rename their rescue boat to the (PDG & PHF with 4 sapphires & past WA CC) Gordon Cargeeg.
Attadale Scout Group assists Attadale RC over the last two years with the collection of tinned cans & other foodstuffs for the annual Give a Damn Give a Can in the Melville District
Nearly 1,300 Rotary Clubs Charter BSA Units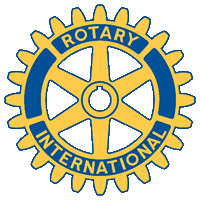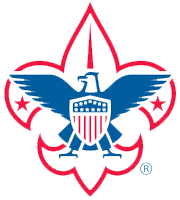 Civic, faith-based, and educational organizations charter BSA units to deliver the Scouting programs to their community. Since their inception, Rotary International (1905) and the Boy Scouts of America (1910) have been partners in serving young people. The principles and goals of both organizations are closely allied. Character-building; service to country, to others, and to self; teaching leadership skills; and becoming aware of the world around us—these are all incorporated into the programs and activities of each organization.
The values expressed in Rotary International's Motto and the Four Way Test greatly parallel those articulated in the Scout Oath, Law, motto, and slogan. Rotarians have long served as role models, demonstrating leadership, character, and the value of selfless service to the community. Rotary clubs in the United States charter nearly 1,300 Scouting units (Cub Scout packs, Boy Scout troops, and Venturing crews) serving more than 40,000 youth members.
Through Collaboration With Scouting, a Rotary Club:
Provides mentoring opportunities for club members to share personal skills, interests, and experiences with youth participants.
Builds better youth and future leaders for the community and the nation.
Shares the purposes of Rotary through Scouting.
Forms enduring friendships among future leaders of the community.
Provides service to the community by offering a time tested, high-quality developmental youth program that has continuous identification with your Rotary club.
Achieves greater public awareness of the ideals of Rotary.
How to Organize a Scouting Unit
Club leadership is informed about Scouting.
Club board and membership officially adopt Scouting, and a chartered organization representative is selected from the club's members.
The chartered organization representative appoints an organizing committee of local parents and interested club members.
The organizing committee identifies and recruits unit leaders and committee members.
The leaders are trained in program planning (Fast Start training).
The program is planned for at least the first six months.
Local youth are recruited.
Unit meetings begin.
The unit is installed and the charter is presented at a formal ceremony held at a club meeting.
You can contact a Rotary Club near you that charters a BSA Unit. Some of the Rotary Clubs and the BSA Units they charter are listed at:
http://scouters.us/ifsr/downloads/RotaryUnits.pdf   and
http://scouters.us/ifsr/downloads/RotaryUnits.xlsx
These lists were created by searching on line. Many other Clubs and Units were missed. They may be added to the list by contacting IFSR webmaster Steve Henning: scouters@earthlink.net
For more information see Rotary International & Scouting
at: http://www.scouting.org/filestore/pdf/03-233.pdf
---
IFSR's Hal Daume Teaches Scout Life Saving, Scout Saves Father's Life 3 Days Later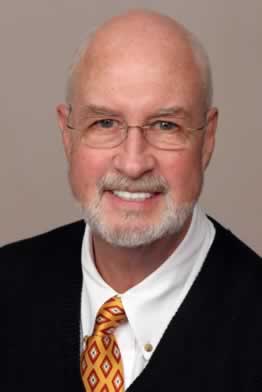 Hal Daume reported that in Rotary District 7510 (New Jersey counties of Hunterdon, Mercer, Middlesex, Somerset, and Union), since July 2008 they presented over 300 IFSR Certificates of Achievement to Eagle Scouts and Girl Scout Gold Awards, and we expect to top 350 by June this year. Over two dozen clubs and nearly 60 Rotarians were involved in this initiative. For more on this program see "District Certificate Presentation Program."
He went on to report that a Scout who he had taught Life Saving merit badge, had saved his father's life just 3 days later.
"It's a wonderful story of a series of circumstances where a young man knew exactly what to do and he did it," said Hal Daume, of Berkeley Heights. Mr. Daume served as Brian's Life Saving merit badge counselor and went on to say, "This is what it's all about: Go back to the Boy Scout motto – he was prepared."
See the full story: A Breath of Fresh Air: New Providence Teen Rescues Drowning Father
---
IFSR Members Receive Silver Antelope
IFSR members Stephen J McCollister & Bob Stuart were recognized at the 2012 National Meeting of the BSA with the Silver Antelope Award for Distinguished Service on an area or regional basis.
Stephen J. McCollister

Bob Stuart

Steve, with over 43 years of service, has served as assistant Scoutmaster, Chartered Organization Representative, and Scoutmaster. He as served as District Commissioner, District Committee Member, Council Jubilee Chair, Council Commissioner, Council Executive Committee Member, Tornado Volunteer & Donations Coordinator, District Operations Chair, and as a Board Trustee. He has served as Area 5 Mission Impact Chair, Area 5 President, Central Region Board Member, Regional Membership Standards Committee Chair, and Eagle Scholarships Selection Committee Member.

His Scouting recognitions include the James E. West Fellowship Award, Silver Beaver, District Award of Merit, Doctorate of Commissioner Science Award, Community Organization Award, and he is an Order of the Arrow Vigil Honor member.

When asked what one Scouting achievement he was most proud of, he said it was being able to serve for three solid months after the tragic tornado at the Little Sioux Scout Camp helping to organize volunteers, handle offers of help from all over the world, and prioritize assistance given to the affected families.

Stephen and his wife Pat have four sons, a daughter, and eight grandchildren. He is president of McCollister-Stokes, having earned a BS in business administration from the University of Nebraska.

He is active in his Lutheran Church having served as deacon, ruing elder and director of safety and securities ministries., chaired the Metro Omaha Area Planning Agency and the Douglas County Board of Health. He is a past president of the Omaha Downtown Rotary Club and has served as a trustee of the Douglas County Hospital, and board member of the Omaha Children's Museum, and Creighton University Medical Center.

Bob is a partner in Brown Hay & Stephens, which was founded by his great‐great grandfather John Todd Stuart in 1828, the oldest law firm in the state of Illinois. He chaired the ISBA Estate Planning Section Council. He is a fellow of the American College of Trust and Estate Counsel and of the American Bar Foundation as well as advisor to Leading Lawyers Network. In Springfield, he has chaired the Chamber of Commerce, the United Way Campaign and the United Way Foundation. He is Vice President of the National Recreation Foundation and of the Abraham Lincoln Association. For service in masonry, he has been awarded the 33rd degree. The Illinois Association of Park Districts presented him its lifetime appreciation award.

Bob has served as trustee and elder in his church.

Bob has been Rotary club president, district governor and one of 17 directors on the international board of Rotary International. He chaired RI's constitution and bylaws committee, raised funds for Rotary's 7 global Peace Centers and sits as vice chair of the Operations Review Committee which provides global oversight for its secretariat operations in over 200 countries in 7 offices. The Rotary Foundation has awarded him its Citation for Meritorious Service and its Distinguished Service Awards.

Bob received attained the rank of Eagle Scout in December 1962. He has served as President of the Abraham Lincoln Council and a Trustee of its endowment. He is currently Co Chair of the Council's NESA chapter. For the past 3 years Bob has served as Area President assisting 12 councils in 4 states receiving the outstanding area trophy out of 7 areas for 2 of the 3 years. He has been awarded the Distinguished Eagle, the Silver Beaver and has been nominated to receive the Silver Antelope.
---
WOSM & IFSR Sign Memorandum of Understanding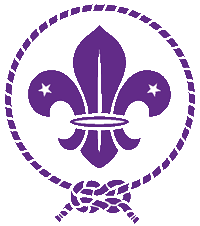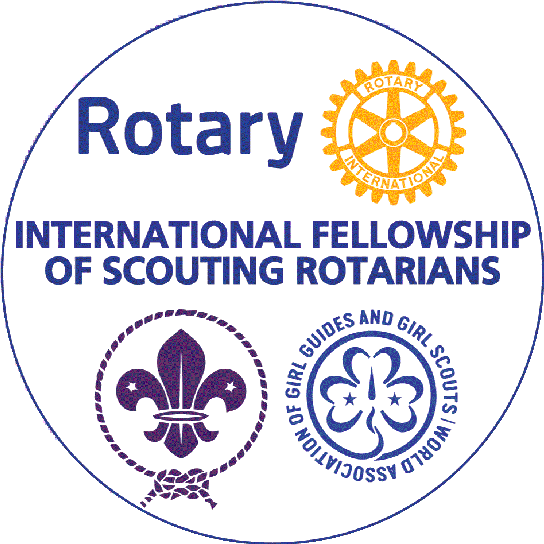 The World Organization of Scouting Movements (WOSM) Chairman Simon Hang-Brock Rhee and IFSR President Brian D. Thiessen completed signing a Memorandum of Understanding on July 7, 2012. The full text of the document is available on line.
The document reaffirms the intention of both organizations to strengthen their relationship by cooperating at Rotary and Scouting events and programs. Hence, it gives IFSR the entitlement to have Exhibits at world scout conferences, regional scout meetings, jamborees, etc.
---
New Generations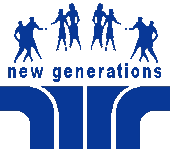 District 5320 and Orange County Council BSA incorporate Scouting into New Generations programing . PDG Lane Calvert of D-5320 (who is also New Generations Director of D-5320 and a Scout Executive himself, has created an excellent Power Point presentation on blending Interact, Rotaract and Youth Leadership Workshops (including RYLA) with Scouting, Youth Exchange, etc. This can be used by any District or any IFSR member.
Contact Lane at or his phone (714) 906 0929 for more information on what you and I can do in our Districts to enhance Scouting/Rotary networking, service and fun!
---
Facebook: Crew1204 Likes IFSR
IFSR has a presence on Facebook that basically just provides contact information. Interestingly, it receives "likes" from many visitors. Here is a special "like" from Venturing Crew 1204, New Jersey:
| | |
| --- | --- |
| | |
May 12, 2013
Greetings!
Geoffrey Garlick here, Advisor to Venturing Crew 1204 out of the Northern New Jersey Council, BSA, and New Jersey IFSR Co-Chair for Rotary District 7490 (Zone 32).
Crew 1204 is a relatively new Crew chartered in September of 2012 and generously sponsored by the Wyckoff-Midland Park Rotary Club, District 7490. My Father, Andy Garlick, IFSR NJ Co-Chair, Current President of the Wyckoff Rotary and D7490 DGEN serves as our Committee Chair.
Crew 1204 has a very strong emphasis on community service as well as high adventure, and has a tremendous partnership with its chartering organization and Rotary International.
On behalf of Venturing Crew 1204 and the Northern New Jersey Council, BSA, I would like to invite the International Fellowship of Scouting Rotarians to like Venturing Crew 1204!
facebook.com/VenturingCrew1204
Crew 1204 is very proud to be sponsored by a Rotary Club and expresses a sincere appreciation for the values of Service in Rotary and Scouting!
Happy Mothers' Day!
Yours in Rotary and Scouting Service,
Geoffrey Garlick
Advisor, Venturing Crew 1204, Northern New Jersey Council, BSA
IFSR Co-Chair, Zone 32, Rotary District 7490
A good-ol' Antelope!
---
Help Wanted! IFSR Coordinators
We Need Your Help!
If you love Scouting and Rotary and would like to volunteer as an IFSR District Coordinator, or for another position, email these IFSR officers:
For international positions Mark Kriebel, markkriebel@prodigy.net
For Inter-American Section: Jack Young, Jack1Villa@aol.com
For the RIBI Section: Shirley Kirk, shirleykirk0@gmail.com
---
Rotary Banquet Recognizes Eagle & Gold Scouts
Honorees with Dignitaries


Honoree with
PDG Rich Panyik


PDG Gary Moore
Eagle Scout and Gold Award Scout Recognition Day Banquet
The Rockdale County, Georgia, Rotary Club recognized 17 Eagle Scouts and one Gold Award Scout for achieving the highest award in Boy Scouts and Girl Scouts. The awards were presented on February 16, 2012, at their annual Eagle Scout and Gold Award Scout Recognition Day Banquet. Recognitions were presented from the Newton and Rockdale County Commissioners, the Georgia House of Representatives, the Sheriff, and IFSR. The guest speaker was business leader and Past District Governor, Richard Panyik, who wore Native American regalia.
At this banquet, Scouts are afforded the opportunity to meet people of recognized ability, achievement and prestige in their vocational field. By matching a Vocational Mentor with each honoree, it is the goal that each Scout will become acquainted with the preparation and training required, employment prospects, an understanding of the economics of the trade, profession or business, and its contribution to society.
They also recognized leadership of the Nagataman Order of the Arrow Chapter. The host was PDG and IFSR member Gary Moore
---
Rotary Club recognizes Chief Scout recipients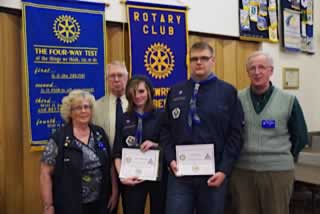 The Rotary Club of Wainwright, Alberta, Canada recently recognized presented IFSR recognition certificates to two of its Scouts who had received the Chief Scout's Award -- members of the Scout Group the RC of Wainwright
sponsors. Pictured, left to right are Wilma Anderson (President of
Wainwright RC), Ross Hallett (Canada IFSR Chair), Chief Scout recipients Margaret Kloppenburg and Matthew Snow, and Scout Group Commissioner Ellis Jagoe. Congratulations to all!
---
Dues are Due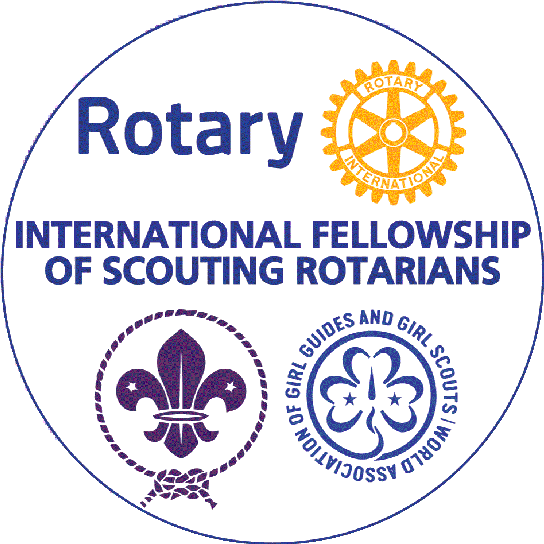 For those who are annual members, dues are now due each new Rotary Year (beginning July 1st). Renewal is $25 per year. New members receive a lapel pin but pay an initial dues of $35. Life Membership is available for $275 and includes the pin and your choice of a tie (blue, green or maroon) or a neckerchief or a ladies scarf.
Visit the IFSR website for an application:

Invite your friends and help the Scouting Fellowship to grow!
---
Dochterman & Wolfstein at Conference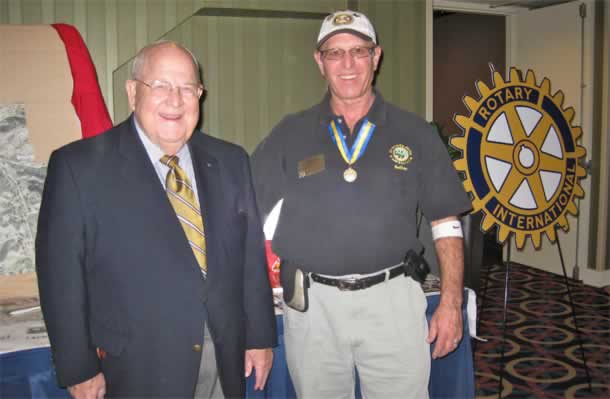 Cliff Dochterman and Nathan Wolfstein at the March 16 and 17, 2012, Sixth Rotary Emergency Disaster Initiative Conference - in Berkeley, California. IFSR's Nathan Wolfstein and Cliff Dochterman were presenters at this conference. Nathan explained to Rotarians the importance of Scouts getting involved in Disaster preparedness and the types of training they receive at the Camporee/Cubaree for Cahunega District of West LA County Council, BSA. This year's Camporee will be held 20-22 April at the Tejon Ranch and IFSR members who are interested in getting their Scouts involved in this urgent activity can contact Nathan at
---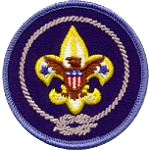 Scouting Around the World
The National Capital Area Council International Committee has in interesting newsletter, Scouting Around the World. It can be viewed on their website and you can ask the editor, John Scheirer, , to put you on his mailing list.
---
Zdenek Michalek Receives IFSR Silver Wheel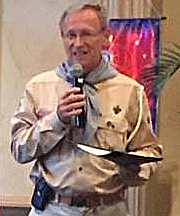 The International Fellowship of Scouting Rotarians (IFSR) "Silver Wheel Award" may be awarded to any Rotarian or Associate who renders exceptional and exemplary service in support of IFSR activities or the Scout Movement worldwide. 
Zdenek Michalek, Rotary Club of Ostrava and IFSR Coordinator, was so honored at the Rotary Club of Alamo meeting on June 17th for his unique and exemplary service to youth in his Rotary District (RYLA Chair for 15 years), Cliff Dochterman Award winner, active leadership of Scouts and Rotarians in both the Czech Republic and in Slovakia .. encouraging joint projects, and his creation of the Scout Center in his hometown that cost over $1Million. It has computer labs, athletic par course outside, meeting rooms for all sorts of educational projects and is open to every member of the community, whether or not they are active in Rotary or Scouting. For his years of tireless effort making his community and country a more principled and inclusive part of the world IFSR recognizes him with this award.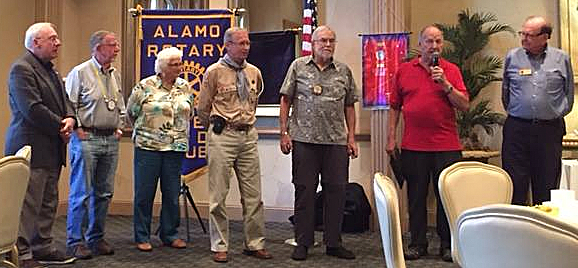 Members of the International Fellowship of Scouting Rotarians gather to see a visitor from the Czech Republic receive the International Fellowship of Scouting "Silver Wheel Award." L to R: Concord Rotarian Gene Voelkel, Alamo Rotarians Bart Gledhill and Carolyn Thiessen; Award Recipient Zdenek Michalek; Past District 5160 Governor Bill Spalding; Past District 5160 Governor and Alamo Rotarian Brian Thiessen and Alamo Rotarian Steve Polcyn.
---
New Scout Center in Czech Republic
IFSR President Brian Thiessen, right, with Zdenek Michalek, President of the Ostrava Rotary Club, the Vice President of the Scouts of Czech Republic and a past District Governor at the new Scout Center Vanaivan in Koprivnice, Czech Republic in November of 2009. The Vice President of the Scouts of Czech Republic spent 11 years in prison during the communist times solely because he was a Scout leader!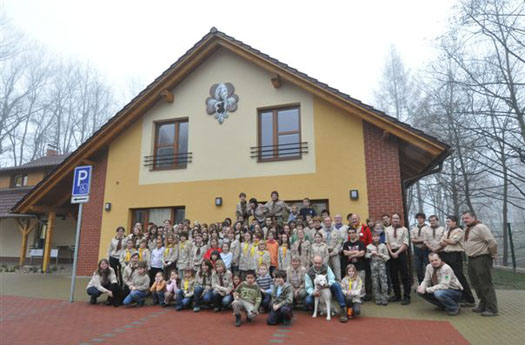 Scouts in front of the new Scout Center Vanaivan in Koprivnice, Czech Republic opened in November of 2009!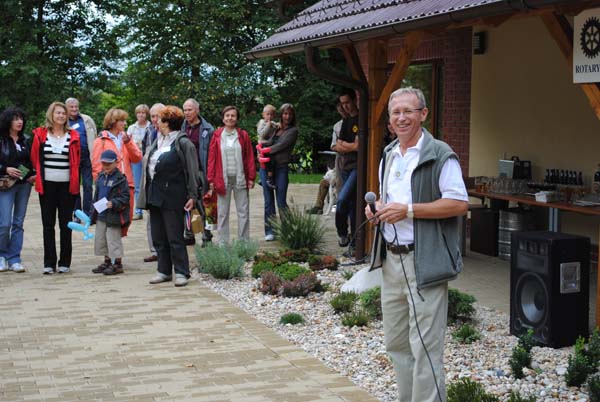 In the photos above and below, taken August 28, 2010 at the Scout Center in Koprivnice, Scouts are working to develop a 'small Gilwell' on the land surrounding the new building. The 'small Gilwell' is also a Rotary District project there in eastern Czech Republic!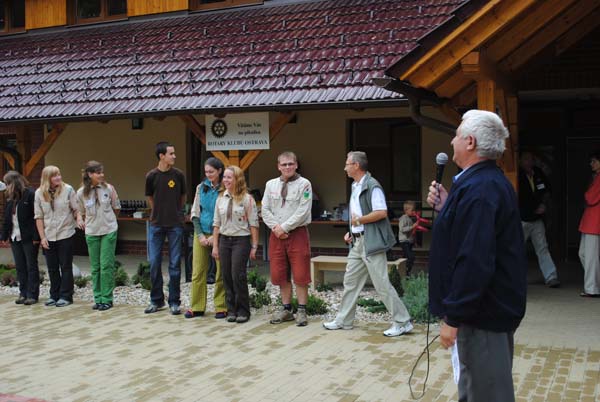 ---

Rotary Global History Fellowship Features IFSR
The Rotary Global History Fellowship has added information about the International Fellowship of Scouting Rotarians to their website, including information about the Cliff Dochterman Award. Visit them at www.rghf.org .
---
IFSR Organizing Committee for Morocco

In an exciting sequence of events, the IFSR Organizing Committee for Morocco was officially created on January 9, 2010. The members are:
Rotarian Abdelhaq LARAÏCHI - Chair
Rotarian Alain Roux - Vice Chair and Treasurer
His Excellency Ambassador Rotarian Mosud Mannan - Secretary
---
Merit Beyond The Badge

Recent Baylor University Research finds that Scouts who attain Scouting's highest rank demonstrate enhanced values, ethics, decision-making abilities, relationships, and personal development.

 
---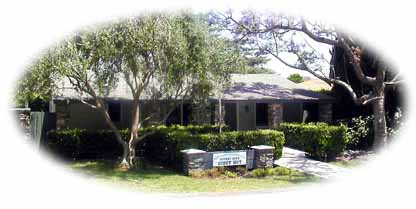 This site last updated on Friday, November 10, 2017