Silver Wheel Award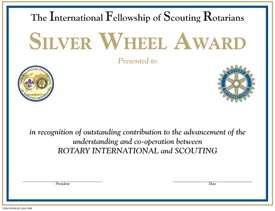 The IFSR Silver Wheel Award may be awarded to any Rotarian or Associate who renders exceptional and exemplary service in support of IFSR activities or the Scout Movement worldwide. The awards may be given annually as proposed by this Committee if approved by the Executive Committee. This Committee will establish the nomination process. Any member may nominate a Rotarian for this award.
Each year IFSR recognizes IFSR members (Rotarians or Rotaractors) who have made unique and outstanding contributions through IFSR to Girl Guiding/Scouting or World Scouting and Rotary International.
This is not a Scouting award but an IFSR award and thus we want to honor those of our members who have contributed in an outstanding fashion.
Nomination forms are available and should be submitted by the first of May to our IFSR office which will forward them to the Awards and Recognitions Chair who will make recommendations to the IFSR Executive Committee and the recognitions presented at the IFSR Annual General Meeting at the annual RI Convention.
Download a copy of the Nomination Form. Nominations must be submitted at least 4 weeks before the IFSR Annual General Meeting which is at the RI Convention which is usually in mid-May.