---
IFSR Community Service Award
For Local Rotary Clubs to Recognize Scout Units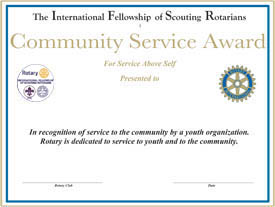 The IFSR Community Service Award may be awarded by any Rotary Club to a Scout or Guide unit of their choice they wish to recognize for performing community service. The award may be given annually to any Scout or Guide unit by any Rotary Club. Recipients are selected by the Rotary Club.
This is not a Scouting award nor a Rotary award, but an IFSR award and is intended to permit Rotary Clubs to recognize Community Service performed by local Scout and/or Guide units.
To help Rotary Clubs create and print the award locally, this website has a fillable PDF version of the certificate which is easy to fill out:
1) Open the form CommunityServiceAward.pdf

2) Enter the name of the Scout or Guide unit (such as, Troop 101, Metropolis)

3) Enter the name of the Rotary Club (such as Metropolis Rotary Club)

4) Enter the date of the Award presentation

5) Then print the award or save and print at a print center.
Please notify the IFSR webmaster [ ] of the Scout or Guide Unit Name, Rotary Club Name and Date and a record of the award will be posted below on the this IFSR Awards page.
| Scout or Guide Unit Name | Rotary Club | Date |
| --- | --- | --- |
| | | |