A synopsis of recent Youth Service Awards:
Buckhead Rotary Club in Georgia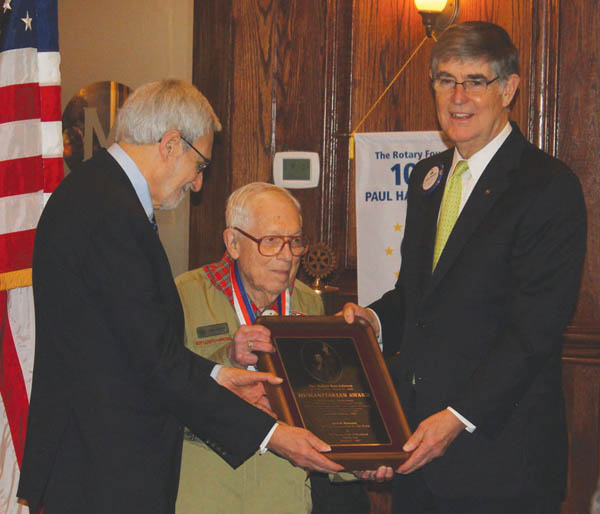 Buckhead Rotary Club (GA) March 27, 2017 (award)
The Rotary Club of Buckhead honored DeKalb Scoutmaster Josiah Benator for mentoring hundreds of Scouts during his 68 years as Scoutmaster of Boy Scout Troop 73, based at the Or VeShalom Synagogue in Brookhaven. That legacy of mentorship is why the Rotary Club of Buckhead gave Benator, 95, the Rev. Robert Ross Johnson Humanitarian Award for 2017.
Calhoun Rotary Club (GA) February 15, 2017 (award)
The Calhoun Rotary Club supports Boy Scout Troop 39 and Cub Scout Pack 39. At their annual Blue and Gold Awards Banquet at the Scout Hut, Cub Master Adam Hill expressed his appreciation to Calhoun Rotary for keeping their Charter funded. The members of Calhoun Rotary support Scouting programs designed to teach service, citizenship and good values to young people.
Charlotte-Shelburne Rotary Club (VT) January 18, 2017 (award)
The Charlotte-Shelburne Rotary Club welcomed local representatives of Scouting, heard reports of the year's accomplishments, and renewed their support with financial contributions and promises of future cooperation. Eagle Scout Andrew Gay reported that 15 Scouts have earned their Eagle Scout award. Their projects included a new bike rack at Charlotte Town Hall.
Great Falls Rotary Club (MT) March 8, 2017 & March 11, 2017 (award)
The Great Falls Rotary Club recognized 28 North Central Montana Eagle Boy Scouts and Gold Award Girl Scouts. The scout recognition luncheon has been a yearly tradition since 1995. The guest speaker was fellow Rotarian and 1972 Eagle Scout Jim Kiser from the Great Falls Rescue Mission. This year's class features 28 Eagle Scouts and two Gold Award Girl Scouts.
Marked Tree Rotary Club in Arkansas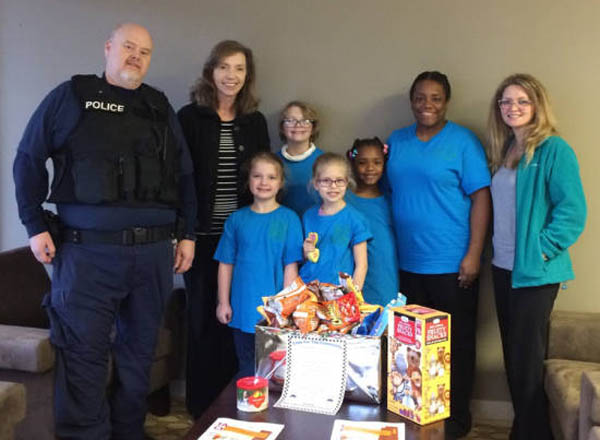 Marked Tree Rotary Club (AR) January 27, 2017 (award)
Marked Tree Girl Scout Troop 3304 joined with the Marked Tree Rotary Club to sponsor a program to donate items to the Marked Tree Police Department's Community Policing Program. The policing program, called Cops for the Community, involves police giving out juice and snacks to kids while out on patrol to help build good community relations.
Marysville Rotary Club (WA) March 29, 2017 (award)
Marysville Rotary Club and a local construction company are planning to build four cabins for a local Boy Scout camp. The Fire Mountain camp near Mount Vernon, which serves many Puget Sound Boy Scout troops, has seen expansion and growth, said Rick McCarthy, a general contractor and member of the Marysville Rotary. The new cabins are for staff who have making due with old lodging.
Mohawk Valley Rotary Club (NY) January 30, 2017 (award)
At a Mohawk Valley Rotary Club meeting, the District Executive for the Leatherstocking Council for the Boy Scouts of America, spoke to the club about the Adirondack Foothills District, covering Herkimer County and the eastern half of Oneida County (including the City of Utica), is one of four districts in the Leatherstocking Council. The district serves a total of over 891 youth in 48 units.
Santa Maria Breakfast Rotary Club (CA) March 11, 2017 (award)
The Breakfast Rotary Club of Santa Maria has donated $1,000 to Orcutt's Girl Scout Troop 50973 for a trip this summer to visit historic U.S landmarks, including in Boston, Philadelphia, Washington, D.C., and New York City. The gift will also help with community projects such as Easter baskets for the children living at the local Good Samaritan Shelter and Valentine cards they make and give to seniors.
Skaneateles Rotary Club (NY) January 10, 2017 (award)
During the weekly meeting, the Skaneateles Rotary Club recognized four members of Boy Scout Troop 61 who received their Eagle Scout awards. The Rotary Club has sponsored the troop since 1933. About 60 Rotarians, parents and invited guests attended. Several who attended the event said it was a humbling and touching ceremony.
Summerville Oakbrook Rotary Club (SC) March 7, 2017 (award)
Members of the Summerville Oakbrook Rotary Club gathered Monday, March 6, 2017, to dedicate a flagpole at Palmetto Scholars Academy charter school. The flagpole was installed as an Eagle Scout project by Ayden Eddings of Troop 502. The pole was purchased by the local Rotary club. The flagpole honors local Rotary and Boy Scout volunteers.
Abingtons Rotary Club (PA), November 1, 2016     (award)
The Abingtons Rotary Club pledged to continue to support the Boys Scout Troop 160, Clarks Summit. Scoutmaster John D'Elia and Troop Committee Chairman Mark Davis presented their charter to Rotary treasurer Leah Rudolph who signed the charter. This partnership has existed for more than 50 years. Scouts help with set up and clean up at the Rotary Fourth of July fireworks display and Rotary pasta dinner.
Barrow's Rotary Clubs (UK), November 22, 2016     (award)
The scout group in Walney desperately needed to refurbish the 100-year-old hall where they carry out their activities. Barrow's three Rotary clubs – Barrow, Furness and Furness Peninsula - came together to buy materials and a new safer vinyl floor covering for Knox Street Hall in Vickerstown, Walney. This benefits the Walney Churches Scout Group and other groups who use the hall, such as the First Responders and the Casualty Union.
Berkeley Heights Rotary Club (NJ), October 27, 2016     (award)
Boy Scout Troop 68 of Berkeley Heights received the prestigious Rotary Community Service Award. Among the troop's contributions are setting up a temporary homeless shelter, assisting at Cub Scout Pinewood Derbies, collecting food for homeless youth, participating in the Relay for Life and Rotary Club Rubber Ducky Festival, gardening at the Wagner Farms Arboretum, collecting trash and recycling for the Berkeley Heights Town Clean-Up Day, supervising games at a school picnic, ecological projects at the Summit Arboretum, sorting food donations for local food banks and the collection of children's toys for impoverished areas of the Appalachia area in West Virginia.
Blind River Rotary Club (Canada), June 2, 2016     (award)
The Rotary Club of Blind River presented a cheque for $1,000 to the Blind River Girl Guides, Brownies, Sparks and Pathfinders. The money was generated through their 26th annual John Menard/AJ Shamas Memorial Golf Tournament.
Brentwood Noon Rotary Club in Tennessee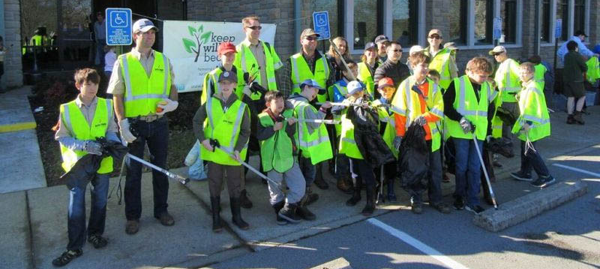 Brentwood Noon Rotary Club (TN) February 3, 2016     (award)
The Brentwood Noon Rotary Club held its 11th annual Little Harpeth River cleanup to clean up 10 miles through the city, removing more than 2,850 pounds of trash. Volunteers from Boy Scout Troops 8, 86, 93 and 747 helped, as well as Cub Scout Packs 6, 136, 223, 290 and 419.
Bullard Rotary Club (TX), June 15, 2016     (award)
The Bullard Rotary Club provided funds to cover the fuel expenses for Bullard Boy Scout Troop 366 to travel to Philmont Scout Ranch in Cimarron, NM, and go on a 10-day, 60-mile hike in the Sangre de Cristo Mountains. 15 high school aged scouts and four adult advisors participated.
Calhoun Rotary Club (GA), March 24, 2016     (award)
As part of the Calhoun Rotary Club's Scouting Outreach Program, the club hosted Audie Murphy, Scoutmaster of Troop 39, and Adam Hill, Cubmaster of Pack 39.  They also help The Boys & Girls Clubs, Interact Clubs, and Rotakids Clubs.
Crawley Rotary Club (UK), October 25, 2016     (award)
The 7th Crawley Beaver Scouts planted 5,000 purple crocus corms for Rotary International's Purple4Polio campaign. They were joined by scout leaders, their parents, members of the Rotary Club, Lions and the Forget Me Not dementia care support group. The Purple4Polio campaign is part of Rotary's 30 year worldwide commitment to eradicate polio.
Cohasset Rotary Club  (MA), March 29, 2016     (award)
Cohasset Rotary 10K Road Race by the Sea that is turning 40 this year.  It supports many organizations including the Boy Scouts.  Many Eagle Scout projects receive Rotary Club support. The Boy Scouts are one of the biggest groups that help keep the race running.
Devon Rotary Club (CT).  January 10, 2016     (award)
A grant from the Devon Rotary Club funded Girl Scout Jenelle Grant's Gold Award service project to create a sustainable Art Club at the Jonathan Law High School which presented an art show at the Milford Arts Council.
Eagle River Rotary Club (AK), February 24, 2016     (award)
Steve Puterbaugh, Scoutmaster of Troop 219 in Eagle River, Alaska, received the 2015-2016 Vocational Service Award from the Eagle River Rotary Club for his strong leadership, dedication and devoted service to youth for more than 15 years, both Cub and Boy Scouts.
Fredericktown Rotary Club (MO), June 29, 2016     (award)
Boy Scout Trevan West from Troop 27, chartered to the Fredericktown Rotary Club, was honored for receiving the Boy Scouts of America Honor Medal for saving the life of his father when he was electrocuted while working on an air conditioning unit. The award was presented at the Greater St. Louis Area Council, BSA annual recognition dinner.
Garrettsville-Hiram Rotary Club (OH), June 21, 2016     (award)
The  Garrettsville-Hiram Rotary Club agreed to purchase a Little Free Library installation to be assembled and placed near the Headwaters Trail leading from the South Street Park. The assembly and mounting of the facility are part of an Eagle Scout project proposed by Kyle Collins.
Gourock Club (Scotland), May 26, 2016     (award)
Rotary Club of Gourock presented Scout Leaders Emma and Jamie Parker with Paul Harris Awards for their work with 1st Gourock Scouts. The Scouts have supported many events in the local community such as Gourock Garden Party, Gourock Highland Games and Rotary's annual Hark in the Park.
Great Falls Rotary Club  (MT), February 27, 2016     (award)
Great Falls Rotary Club recognized 22 boys and 3 girls for their Eagle Scout  and Gold Award projects.  This was the 21st time the Rotary Club honored such projects.  Since 1995, more than 622 Scouts have provided 92,729 hours of public service to the community.
Hillsborough Club (NJ), April 13, 2016     (award)
The Hillsborough Rotary Club turned over their Bee Hive Project to Boy Scout Troop 1776. 15,000 bees will take up residence in a specially-designed compound at Ann Van Middlesworth Park built jointly by the Rotary club and the Scout troop. The hives are expected to produce enough honey to be harvested and sold.
Kamloops Daybreak Rotary Club (CA), January 20, 2016     (award)
The Kamloops Daybreak Rotary Club runs Ribfest to support many Kamloops charities including the Girl Guides of Canada.  Ribfest takes over Riverside Park in August for a full weekend of fantastic, free, family fun. It includes entertainment and the family zone.
Knutsford Rotary Club (UK), January 26, 2016     (award)
The Knutsford Rotary Club's annual Knutsford Jog helped the 1st Knutsford Scouts Group replace their current headquarters with a new, larger modern purpose built timber clad unit for Explorers, Scouts, Cubs, Beavers Girl Guides, Brownies and Rainbows.
La Crosse Rotary Clubs (WI) December 9, 2016     (award)
Eagle Scouts, brothers Alex and Nick Shupe earned the rank of Eagle Scout by building the barn for the reindeer and making new candy canes posts for the La Crosse Rotary Lights display. Food contributions are collected to donate to local food pantries. The scouts knew they wanted to do something for Rotary Lights because they feel the holiday display is a big part of the community.
Lake Conroe Rotary Club (NY), September 17, 2016     (award)
Lake Conroe Rotary Club recognized Scouts for their contributions to Memorial Park. Scout Frank Schmidt's Eagle Project was identifying and labeling plants in the park. Mason Ganahl completed the "Stairways to Memory" which connects the lower Veterans Garden to the upper trail in Memorial Park. Girl Scout Projects were in the dramatic Butterfly Garden. Jessica Green created in 2014 and Vannessa Barnett and Makalyn Curley finished their project in 2016. Girl Scout Troop Leader Samantha Barnett was awarded a Rotary Paul Harris Fellowship for her work with Vannessa and Makalyn on The Butterfly Garden.
Launceston Club (Cornwall), May 18, 2016 (award)
Launceston Rotary Club organizes an annual day of fun and friendship for the disabled. People with a learning disability take part in leisure, social and creative activities. The Lewannick Girl Guides helped make the event fun for all who took part.
Middleport Rotary Club (NY).  January 4, 2016     (award)
The Middleport Rotary Club donated a building known as The Scout House in Rotary Park to the village so that local Scouts would have a place to meet.  The Middleport Rotary Club charters Boy Scout Troop 23 in Middleport.
Montrose Rotary Club (UK), March 11, 2016     (award)
Montrose Rotary Club is launching an initiative to recruit new members.  The club will be hosted a drop-in evening for anyone interested in joining and finding out more about the work Montrose Rotary does including sponsoring guides, brownies and scouts to attend camps.
Myall Coast Rotary Club (Australia), November 8, 2016     (award)
Myall Coast Rotary Club and Scouts Australia joined forces at the Myall River Festival to promote the re-establishment of the Hawks Nest/Tea Gardens Scout Troop. 70 children and one Troop Leader expressed interest. Local tradesmen are giving their time to make renovations at the Scout Hall. Rotary ran a guessing competition at the Festival to raise funds.
Newton Aycliffe Rotary Club (UK), March 3, 2016     (award)
The Newton Aycliffe Rotary Club presented 90 year-old mayor, Mary Dalton, the Paul Harris Fellowship honor for her long and dedicated service to the Newton Wycliffe Community including service to Scouts and Guides.
Northampton Rotary Clubs (UK),  March 17, 2016     (award)
The annual swimarathon organised by the Rotary clubs in Northampton raised more than £3,000 for charities.  Swimmers from the Brownies, the Girl Guides and the Scouts together with teams made up of members from families and friends participated.
Orange Rotary Club (VA), September 16, 2016     (award)
The Orange Rotary Club hosted a benefit barbecue to support the Rotary Youth and Boy Scout Fund. They expect to raise around $5,000.
Plano Rotary (IL), November 3, 2016     (award)
Eagle Scout Michael McGinnis of Plano developed a trail encompassing the Sherman R. Cook Memorial Scout Park and created two primitive campsites as part of his Eagle Scout candidate service project, and members of Boy Scout Troop 71 have held primitive camping weekends on the property. A new entrance sign has been erected to identify the property and a rededication and ribbon-cutting were held. 
Randolph Rotary Club (NC), November 10, 2016     (award)
The Randolph Rotary Club visited Woodfield Scout Preservation of the BSA's Old North State Council. "Camp Woodfield is introducing a Waterfront Complex that would include paddle boats and water safety. The Scouts will learn skills like how to protect themselves — and others — from heat-related illnesses."
Renton Rotary Club (WA), February 13, 2016     (award)
Rotary Club of Renton recognizes three Renton School District high school students each month as Youth of the Month. The club reviews applications and interviews students to identify the Youth of the Month. The students and parents are honored guests at a regular Rotary luncheon.
Roselle-Roselle Park Rotary Club (NJ), August 1, 2016     (award)
The President of the Roselle - Roselle Park Rotary Club attended the Court of Honor for Roselle Troop 40 Eagle Scout David Tibbs. Mickiewicz presented the Eagle Scout with the Rotary Certificate of Achievement as part of the Rotary District 7510 Scouting Services Initiative. Because these ideals Scouting and Rotary align so closely, in 2008 District 7510 Rotarians initiated a unique plan to recognize the pinnacle achievements of young men and women who have embraced Scouting's principles.
Salina Rotary Club (CO), July 4, 2016     (award)
The Salida Rotary Club operated a dunk tank in Riverside Park on July 4th. They solicited a number of prominent residents to be the dunks. The event was broadcast live on a local radio station. One hundred percent of the proceeds will go to help fund the Scout Hut project.
San Marino Rotary Club (CA), February 23, 2016     (award)
San Marino Rotary Club hosted its annual Chili Cook-Off competition to win prize money for their charity. San Marino Fire Department won 2nd in popular vote and 3rd in judges vote for Boy Scout Troop 358.  Bob Houston won 2nd in judges vote and also selected Troop 358.
São José dos Campos Clubs (Brazil), May 31, 2016 (Sul award) (Santana award)
The Assisi House Brotherhood of São José dos Campos provides assistance to street people. Girl Scout, Giovana, heard about their work and spread the word to her and other Girl Scout troops. They in turn received support from the Rotary Clubs São José dos Campos South and São José dos Campos - Santana. Together, they collected well over 600 items of clothing and blankets.
St Andrews Rotary Club (UK), June 25, 2016     (award)
The St Andrews Rotary Club was one of the sponsors which helped scouts from the 8th Fife St Andrews Explorer Scouts, joined by leaders and active support volunteers, travel to the International Scout Base at Kanderstag in Switzerland.
Sherborne Castles Rotary Club in the UK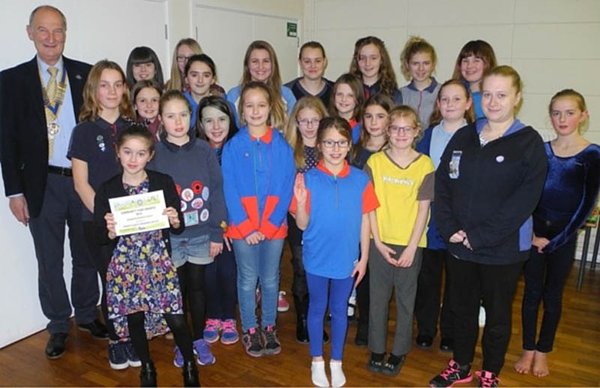 Sherborne Castles Rotary Club (UK).  January 18, 2016     (award)
Thanks to a donation from the Sherborne Castles Rotary Club to fund a coach, the 1st Sherborne Girl Guides were able to visit an activity camp in the New Forest.
Southampton Rotary Club (Canada), May 30, 2016     (award)
At a recent wine and cheese reception, the Southampton Rotary Club revealed they donated to the accessible playground at Jubilee Park, built and maintains the Rotary Scout Hall, and supports local youth through scholarships an literacy programs.
Stamford Burghley Rotary Club (UK), July 4, 2016     (award)
The Rotary Club of Stamford Burghley presented a cheque for £1,000 to scout leader Jon Deardon during celebrations at Burghley Park when the scout group marked its 100th birthday. The money was raised at a concert in April by the Corby Male Voice choir. The scouts used the money to buy five go-Karts, which will be used by all cubs and scouts in the local area.
Stryker Rotary Club (OH), October 3, 2016     (award)
Kimberly Stuckey, of the Girl Scout Troop in West Unity, spoke to the Stryker Rotary Club about her "Gold Project" which includes landscaping work in several areas around the village. She updated landscape at two of the village signs as well as at the town hall and worked on several planters in the village.
Wallkill Valley Rotary Club (NJ), October 10, 2016     (award)
Wallkill Valley Rotary Club helped at the Hamburg Fire Department Parade on Saturday, by making and bagging over 2000 sandwiches. Some of the groups helping out were: Cub Scout Pack 84 and Girl Scout Troop 94664 of Vernon.
Walnut Rotary Club (IL) December 16, 2016     (award)
The Rotary Club of Walnut recognized Brian Stull as the month's model of "Service Above Self." Brian serves as a member of the village board, is a volunteer in the Walnut Fire Department, a youth softball coach and a Cub Scout leader. He makes an incredible role model for young and old alike.
Westward Rotary Club (MA), June 15, 2016     (award)
The Westford Rotary Club is supporting Girl Scout Troop 85009 in their Bronze Award Project to collect donations for the Westward Food Pantry at the Westward Farmers Market. The Troop will also be able to accept donations of fresh purchased produce from Market Basket or Whole Foods.
Abingtons Rotary Club (PA), June 8, 2015   (award)
The Abington Rotary Club recognized 8 Eagle Scouts from Boy Scout Troop 160, which they charter.
Anaheim Hills Rotary Club (CA), June 8, 2015  (award)
A sensory garden was the Eagle Scout project of Canyon High senior Matthew McMahan in partnership with the Anaheim Hills Rotary Club.
Barnard Castle Rotary Club (UK). December 20, 2015   (award)
The Barnard Castle Rotary Club included the Staindrop Scouts and Barnard Castle Scouts as major recipients in their charitable efforts.
Belconnen Rotary Club in Australia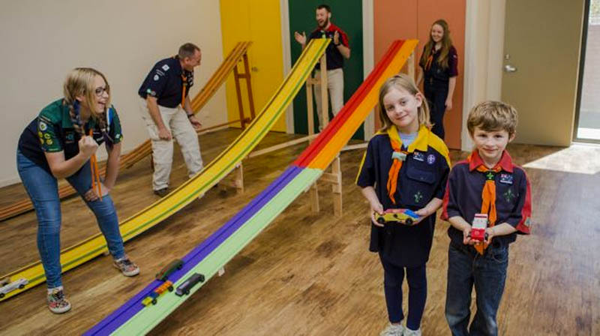 Belconnen Club (Australia), September 20, 2015  (award)
The Scouts ACT branch, the Rotary Club of Belconnen and in-kind donations made up the $130,000 needed to rebuild the Diamantina Scout Hall after it was targeted by teenage arsonists in 2010.
Berkeley Heights Club (NJ), June 21, 2015  (award)
Boy Scout Troop 368 hosted their 12th annual Rubber Ducky Race at Passaic River Park in Berkeley Heights. This is an annual fundraiser for the Troop is partnered with the Berkeley Heights Rotary Club.
Bewdley Rotary Club (UK). November 17, 2015   (award)
The Bewdley Rotary Club made donations to the Bewdley Guides and Brownies and other community organizations from the proceeds of their recent Button Oak Community Fete.
Blandford Rotary Club (UK), August 5, 2015  (award)
Blandford Rotary Club is making the refurbishment of the 90 year old Blandford Scout Hut a top priority for the club and are working with Blandford Scouts to help raise money for refurbishment.
Buchanan Rotary Club (VA). November 18, 2015   (award)
The Buchanan Rotary Club, Boy Scout Troop 131 and Cub Scout Pack 207 celebrated the completion of renovations to the Buchanan Scout Lodge building. The Buchanan Rotary Club has sponsored Troop 131 since the early 1940s and now sponsors Pack 207. The Rotary Club originally built the Scout Lodge in the mid 1970s.
Cayman Brac Rotary Club in Cayman Islands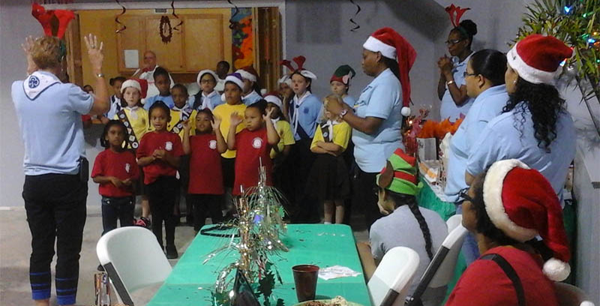 Cayman Brac Club (Cayman Islands), December 22, 2015 (award)
The Cayman Brac Rotary Club invited Girl Guides, Brownies and Rainbows to their annual Senior Citizens Dinner. Approximately 75 seniors enjoyed dinner and songs and fellowship with young ladies from these youth organizations.
Cohasset Rotary Club (MA), October 23, 2015  (award)
Cohasset Rotary donated more than $1 million to recipients including the Boy Scouts and individual Eagle Scout projects. Fundraisers included a 10K by the Sea, Cohasset Phone Book and an Annual Wine Dinner.
Edwardsville Rotary Club (IL). December 16, 2015   (award)
The Edwardsville Rotary Club honored Edwardsville High School student Ethan Hill as their Student of the Month. Ethan is an Eagle Scout, was a Rotary International Youth Exchange student to Spain and earned the Service Above Self award for Interact. 
Falls Church Rotary Club (VA), October 19, 2015  (award)
The Falls Church Rotary Club recently teamed up with Girl Scout Troop 1251 during the City of Falls Church's Fall Community Clean Up.
Glendale Rotary Club (AZ). November 5, 2015   (award)
At a special Veterans Day observance, the Glendale Rotary Club presented a Rotary boat to the Boy Scouts of the Grand Canyon Council to use to teach Scouts boating practices. The Mayor, a former Eagle Scout, was a speaker.
Kennett Rotary Club (MO), September 26, 2015  (award)
Kennett Rotary Club contributed to an Eagle Scout Project of Kennett Troop 272 to build and place "Little Free Libraries" in three community facilities.
Kidderminster Rotary Club (UK), August 24, 2015    (award)
Kidderminster Rotary Club has donated £500 for an archery shelter to be built at the district scouts' outdoor centre in Bewdley in memory of David Pagett.
Kutztown Rotary Club (PA), September 25, 2015    (award)
Kutztown Rotary organized a group effort to harvest 24,240 pounds of potatoes for local food banks as part of the Potato Project. 5 Rotary Clubs, Kutztown's Rotaract Club, and several Girl Scout Troops participated.
Lewisburg Sunrise Rotary Club (PA). November 12, 2015   (award)
The Lewisburg Sunrise Rotary Club supported Boy Scout Adam Maxwell with his Eagle Scout Project where he built stairs, railings and a mid-point landing with a bench for the pavilion at Trinity United Methodist Church in Winfield.
Liberty Rotary Club (TX). December 29, 2015   (award)
The Liberty Rotary Club hosted Scout James Davis, a junior at Liberty High School, who described his Eagle Scout project, to create a special needs park within the Liberty Municipal Park. He intends to raise approximately $50,000 for the special-needs playground equipment.
North Balwyn Rotary Club (Australia), October 26, 2015    (award)
The Rotary Club of North Balwyn established a partnership with the 1st North Balwyn Scout Group. Rotarians assist the Scout Group and the Scouts help at Rotary Fundraisers.
Northville Rotary Club (NY), September 15, 2015    (award)
The Northville Rotary Club presented a check for $915 to the Northville Boy Scout Troop 55 at a Rotary meeting.
Redlands Sunrise Rotary Club (CA), September 2, 2015    (award)
A member of Boy Scout Troop 3 organized a children's book drive for his Eagle Scout project. The drive brought in 3,247 books for Redlands Sunrise Rotary Club's Read for Life program.
Revelstoke Rotary Club (BC, Canada). December 9, 2015   (award)
The Revelstoke Rotary Club recognized Roma Threatful as their 2016 Citizen of the Year for her service to the Girl Guides for 38 years — 10 as an kid and 28 as an adult volunteer. She was also recognized for her volunteer work at the Volunteer Fair.

Rochdale East Rotary Club (UK). November 23, 2015   (award)
The Rotary Club of Rochdale East made a donation to the 7th A Rochdale Scout Group to help them modernize and repair their headquarters at Spotland Bridge. The Group HQ was built by the Scouts themselves, and opened in 1962.
Roselle-Roselle Park Rotary Club (NJ), June 21, 2015    (award)
After a luncheon prepared by Girl Scout volunteers at Camp Letico the Rotary Club of Roselle-Roselle Park members presented a donation to the Girl Scouts of Camp Letico.
Salida Rotary Club and Salida Sunrise Rotary Club (CO). December 28, 2015 (Salida award)(Salida Sunrise award)
The Salida Rotary Club and Salida Sunrise Rotary Club are near their goal to raise $100,000 to renovate the Scout Hut in Riverside Park, in Salida, Colorado. The Hut was built in 1949 as a meeting place for Scouts. More than 30 organizations use the Scout Hut, as well as Girl Scout and Boy Scout groups.
Southern Ocean Rotary Clubs (NJ), September 23, 2015    (award)
The Boy Scouts of the Jersey Shore Council and the Rotary Clubs of Southern Ocean County join forces for Operation Halloween.
Southside Rotary Club (TX), June 6, 2015    (award)
Members of Boy Scout Troop 232 and Southside Rotary honored fallen servicemen and women by placing flags in observance of Memorial Day. The Flag Project helps fund camp scholarships and other troop projects.
Stratford Rotary Club (CT). November 25, 2015   (award)
Stratford Rotary Club joined with the Stratford IGIP Guides and Princesses, local Boy Scout troops and other groups to help 200 Stratford families enjoy Thanksgiving by distributing turkeys and holiday gift baskets at the Stirling House Community Center.

Ulverston Rotary Club (UK). December 23, 2015   (award)
The Ulverston Rotary Club Broadley award for young people who do work within the local community was presented to the Ulverston-based Xenolith Explorer Scouts for restocking municipal planters, building animal rescue boxes, cleaning up roadside liter, work on a garden project for primary students and more.

Whistler Millennium Rotary Club (BC, Canada). November 16, 2015   (award)
The Whistler Millennium Rotary Club presented the Volunteer of the Year ward to Jennifer Patterson for her role in the Whistler Girl Guides and other groups. She has hosted two Rotary Exchange students and her daughter was a Rotary Exchange Student to Denmark.