Stephen M. Henning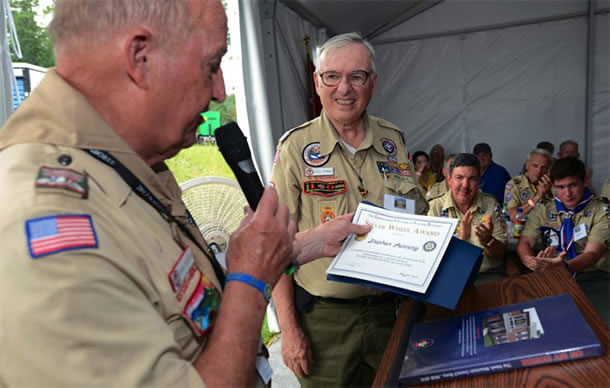 Brian Thiessen presented Steve Henning the Silver Wheel Award for years of service in his own Hawk Mountain Council as well as in IFSR Exhibit booths and as IFSR Webmaster for half a decade.
The webmaster of Scouters' Pages is Steve Henning. A 52-year veteran in Scouting, Steve is a Council Member at Large for Hawk Mountain Council, and served on staff at the BSA's Centennial Jamboree in Virginia in 2010 and at the World Centennial Jamboree in England in 2007.
Steve's Scouting career began as a boy in Portland, Oregon, where he was a member of a Cub Pack. Although he didn't advance to Boy Scouts, he studied the Boy Scout handbook extensively. He gained outdoor experience during college, when he worked summers on a forest fire crew with the U.S. Forest Service.
After graduating from Oregon State University in 1962, Steve moved to Berks County, Pennsylvania to work as a physicist for AT&T Bell Labs at the Western Electric plant. Two troops asked him to lend his experience to their outdoor programs, and he soon was an Assistant Scoutmaster in Troop 113, Wyomissing, and later in Troop 429, Whitfield. He received the Scouter's Training Award, became Wood Badge trained, and served 16 years as an Assistant Scoutmaster.
Steve became a member of the Shikellamy District Membership Committee in 1984, and served as Assistant District Commissioner for troubled units. He helped start Tiger Cub groups and worked with troops and packs that were reorganizing. He was awarded the Scouter's Key, District Award of Merit, and Doctorate of Commissioner Science. Steve was forced in 1990 to decide whether to relocate for his job or choose another career path. When he was offered the position of District Executive of Hawk Mountain Council, his long time interest in Scouting became his new profession. His assignment to Broad Mountain District in northern Schuylkill County and the Panther Valley of Carbon County lasted more than 10 years.
Having received his Wood Badge beads as a Beaver for both Boy Scout Wood Badge (NE-IV-70) and Cub Scout Wood Badge (NE-CS-39), Steve served on staff for 7 Wood Badge courses. Steve served as Hawk Mountain Council Office Manager for 3 years, Broad Mountain District Executive for over 10 years and in addition to his duties as District Executive, he also completed National Camping School and 10 conferences at Philmont Training Center. He has served on staff at all National Jamborees since 1989, and at World Jamborees in Korea in 1991, Holland in 1995, England in 2007, and Sweden in 2011.
The former editor of the Herbie Hawk council newspaper and creator of the Herbie Hawk Web Page, Steve was ScoutNet coordinator; and staff adviser for the council's contingent to the 2003 World Jamboree, Wood Badge Training, Train-The-Trainer, "Wolf's Lair" Junior Leader Training, PowWow, Scoutmastership Fundamentals, Cub Scout Leader Basic Training, Youth Protection, Cub Scout Resident Camping, Commissioner's College, Risk Management Committee, National Jamborees and World Jamborees.
He served on staff for Trail-to-Eagle Camp at Hawk Mountain Scout Reservation for 3 years. He holds the Scouter's Training Award, Scouter's Key, Distinguished Commissioner Service Award, District Award of Merit, Professional Training Award and International Scouter´s Award. Steve participated or served on staff in 10 conferences at the Philmont Training Center in New Mexico and is a James E. West Fellow, Heritage Society Member and Founders Circle Member. He has received Rotary International's Cliff Dochterman Award for service to Scouting. He is life member and webmaster for the International Fellowship of Scouting Rotarians (IFSR) and life member in the National Association of United Methodist Scouters (NAUMS).
In 2008, Steve was asked to edit the council's Memory/History book. It went to press in the fall of 2009, "On My Honor, The Hawk Mountain Council Story ... 1908-2010." For more information on this book visit http://scouters.us/book/Book.html
Steve was surprised at the 2013 BSA National Jamboree at Bechtel Summit Reserve by being presented the Silver Wheel Award. The Silver Wheel Award is for outstanding service to the International Fellowship of Scouting Rotarians over years of effort. Thiessen said, "Steve is not only active in IFSR within his home Hawk Mountain Council, but has served in IFSR Exhibit booths at national and international Jamborees and Rotary Conferences, is the author of the widely read and appreciated On My Honor .. The Hawk Mountain Council Story 1908-2010 hardbound book, is one of our nation's leading experts in rhododendrons and azaleas (so much so that his email tells it all (rhodyman@earthlink.net) ... and has also served as IFSR's Webmaster (http://www.ifsr-net.org) for more than half a decade."
When not Scouting, Steve enjoys raising rhododendrons, gardening, traveling, photography and being a Rotarian. Prior to joining the Hawk Mountain Council professional staff, Steve was a physicist at AT&T Bell Laboratories for 27 years. He and his wife, Darlene, enjoy traveling, and have visited all 50 states and 99 countries as they pursue their interests in Scouting, Rotary, gardens, and photography.
Be sure to visit the list of all Merit Badges and Their Evolution. For information on Scouting Traditions and History check out Steve's Scouting History Page. For a directory of many Scouting resources, check out his extensive list of BSA Forms and Resources. The Boy Scouts of America has its own home page at http://www.scouting.org/.
---
Directory to Contents of Henning's Scouter's Pages
---
Compatibility & Webmaster information:
These pages were created in Adobe GoLive, Adobe DreamWeaver, and BBEdit by . They have been successfully tested on computers, ipads, ipods, & iphones and with various browsers including Chrome, Firefox, Internet Explorer, Netscape, OmniWeb, Opera, & Safari. They have also passed the internet standards of the W3C validator tests. They are now translated into over 60 other languages by
Google
. Please report any problems to . [
Article in Kutztown Patriot about International Fellowship of Scouting Rotarians Award
.]