Return to Scouters' Pages Home
Philmont Training Center
Cimarron, New Mexico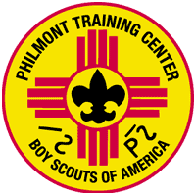 PTC Website
The Philmont Training Center (PTC) is located in the mountains of northeastern New Mexico near Cimarron - about halfway between Raton and Taos. Rich in history and natural beauty, this area offers exciting, educational experiences for the entire family, with an almost ideal climate of warm days and cool nights.
Serving as the National Training Center for the Boy Scouts of America, it offers a variety of week-long conferences conducted for unit, district and council volunteers and professionals. Each conference features the latest tools and techniques, audiovisuals, discussions, idea-sharing, and activities led by a faculty of experienced Scouters selected by the divisions and committees of the National Council for their expertise in the conference's topic. Invitation to these conferences is upon recommendation of the local council or one of the BSA's National Committees.

The conference schedule permits ample time for family activities, day hiking, and recreation. Families arrive on Sunday afternoon, and depart on Saturday morning. Conferences and family programs begin early Monday morning. Family programs are planned for all ages - infant through adult. Scouters and their families will find that the Philmont Training Center's conferences and programs provide an exciting and worthwhile experience.
The summer staff will lead hiking, tours, handicrafts and outdoor activities. A week long backcountry mountain trek for Venture-age youth will also be offered. (No Mountain Trek week 1 and 12). Invitations to the conferences are initiated by your local council. Contact the Council Service Center to request an invitation. Full details on programs are sent to participants upon acceptance of the invitation for registration. Applications are accepted on a first-come, first served basis.
All meals are provided in Philmont's dining halls. Housing for participants is in a tent city environment in large, two-person wall tents on platforms with twin beds and electricity. Modern rest rooms with showers are located in the tent cities. Support services are provided by a medical facility, chapels, laundry, trading posts, and a handicraft lodge. Full details on programs, facilities, and services are sent to conference participants upon registration.
---
Return to Scouters' Pages Home
---
This page was created in Adobe PageMill and BBEdit by .