Go to Hawk Mountain Council Homepage
HMC Alumni Reunion – April 2, 2011
Hawk Mountain Council Alumni Association
Past and Present Scouts, Scouters, and Camp Staff – Serving Scouting
Membership
The Hawk Mountain Alumni Association is for past and present Scouts, Scouters, and Camp Staff. Membership is free. The purpose of the association is 2-fold:
Reunions, social gathering to get together with Scouting friends
Service, to work on specific projects with Scouting friends to help further Scouting in our Council
Those who join can submit their emails and be invited to reunions and types of alumni service projects that they elect to be informed of.
Those without email can elect to submit their telephone and we will attempt to contact those by a telephone chain.
When past and present Scouts, Scouters, and Camp Staff were contacted in preparation of the Council's Centennial Memory Book, many mentioned they would like to see their many friends in Scouting once in a while. Others indicated an interest in being able to help out occasionally without having to bother joining or attending meetings. The HMC Alumni Association is just this, a group of both registered and unregistered Scouts and Scouters who want to get together and help Scouting where they can, when they can.
Please register and tell your Scouting friends about us. [return to top]
The first function of the Hawk Mountain Council Alumni Association is a reunion at Hawk Mountain Scout Reservation on Saturday, April 2, 2011.
The reunion will start off with a work project at 9 am for those that elect to come up and help out. Those that work will be treated to a free lunch. There will be time to change our of your work clothes.
Next will be an informal afternoon of camp tours, camp staff reunions, and displays of council memorabilia starting at 2 pm. You will be able to visit some of the newer things at camp such as the Climbing Wall, Miller Conference, Rodale Science & Technology Center and the new parking lot. This will be followed by an afternoon campfire complete with songs, skits and cheers at 4 pm.
The event will conclude with a dinner in the new Hawk Mountain Scout Reservation Marlin Miller Conference Center at 6 pm.
Register and come for any or all events. There will be one fee, $15, and advance registration is a must. RSVP by March 24.
9:00 am

2:00 pm

4:00 pm

6:00 pm

Work project. Bring a hammer and a few other tools. Workers will be treated to lunch.

Camp Tours, Camp Staff Reunions, Displays of Council Memorabilia, handicap accessible program, and more.

Afternoon Campfire Ceremony with Songs, Skits and Cheers.

Dinner at Marlin Miller Conference Center, with Bernie Hofmann as emcee.
Alumni Service Corps
The first Alumni Association Service Project will be at 9:00 am on April 2, 2011. It will involve making tent new platforms for 2 sites, and, if enough people show up, other projects. Tools will be available, but if you have a favorite hammer or other tools, put them in the car, you may be able to use them. Kevin Hunecke will be supervising. Those working on the Service Project will be treated to lunch. There will be time after lunch to change clothes.
In the future, Alumni Association members will be contacted when projects are scheduled. They will be asked to respond if they can help out. So that we contact the correct people, we are asking Alumni Association members to provide their email address and indicate which types of events they wish to be contacted for and what special skills they have. Please fill out the registration form. [return to top]
Alumni Association Patch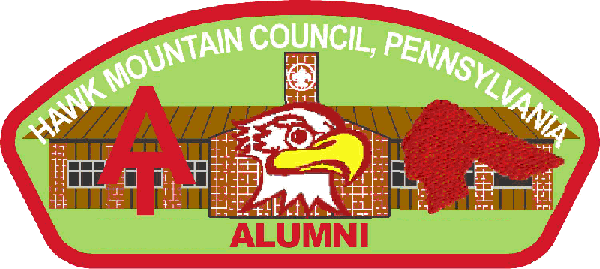 A special Hawk Mountain Council Alumni Association Council Shoulder Patch has been created. Those that attend any Alumni Association Service Project will be entitled to purchase 2 Alumni Association Patches for $3 each. One free patch will be given to those that register and show up April 2, 2011, at the reunion. Pick it up at the registration table. [return to top]
Please download and fill out the Alumni Association Registration Form and send to Hawk Mountain Council BSA, 5027 Pottsville Pike, Reading, PA 19605. Registrations for the April 2nd reunion should be turned in by March 24. [return to top]